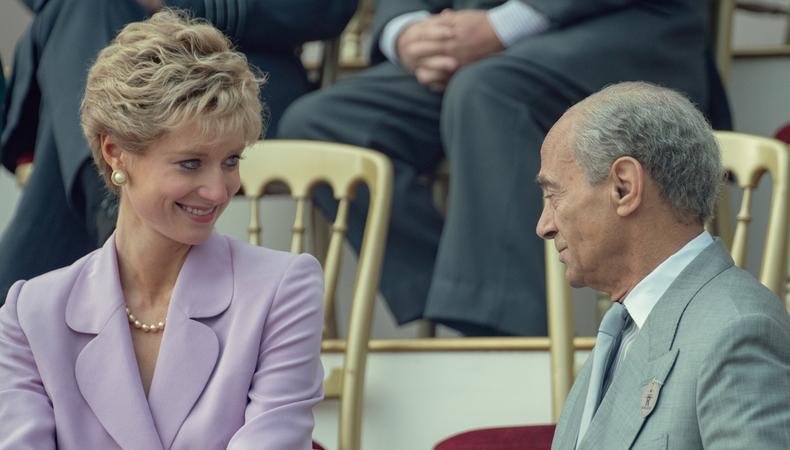 Emmy-winning costume designer Amy Roberts joined "The Crown" on the third season of the hit Netflix historical drama. She roots her work in creator Peter Morgan's scripts, sharing ideas with the actors in order to evoke the private lives of the British royal family through costume. "You've got to think you're just dressing human beings at the end of the day," she says. Here, she discusses her work on Season 5.
What's the first thing you do when starting work on a new season? Are there particular themes, moods, or color stories you tap into?
It's quite an extraordinary job in that I never think, Oh, gosh, I haven't got any inspiration at all. Anything on that page, I get excited about. You read the script, and you do see things in colors. There are different tones in each season. It's a huge, arching journey for—primarily the queen, but [also for] her family and the people who come into that orbit. It's looking back at [her] life and what's happened, so the colors you automatically think of are autumnal. But you're still dealing with the queen, somebody who needs to be seen by the public and dress in a certain way. In those moments—and there are a lot of them in "The Crown," private moments we don't really know about—we put our thoughts and our stamp on the colors.
Is the pressure high when you're costuming a series based on such well-known people, or are you able to push it to one side since you're dealing with a story and scripts?
I absolutely do the second thing. Otherwise, I'd never be able to do it. You've got to bring something of your own personal style and taste—every designer will. It's difficult to get rid of that completely. I'm always saying it's like a big opera. It's this huge, dysfunctional family that we all relate to, because most of us come from a dysfunctional family background; however lovely we think it might be, it usually isn't. [The royal family is] written about so humanly.
How do you build a rapport when a new cast comes in, as Elizabeth Debicki, Imelda Staunton, Dominic West, and others did for Season 5? What are the conversations you're having?
It's very much a two-way thing; we're doing it together. I don't think I'm a great one on any job for saying, "This is what you're going to wear." They've got to wear it; they're going to know more about that character than I ever possibly can. It's vital you keep talking and working together and argue sometimes about things—that's fine as well.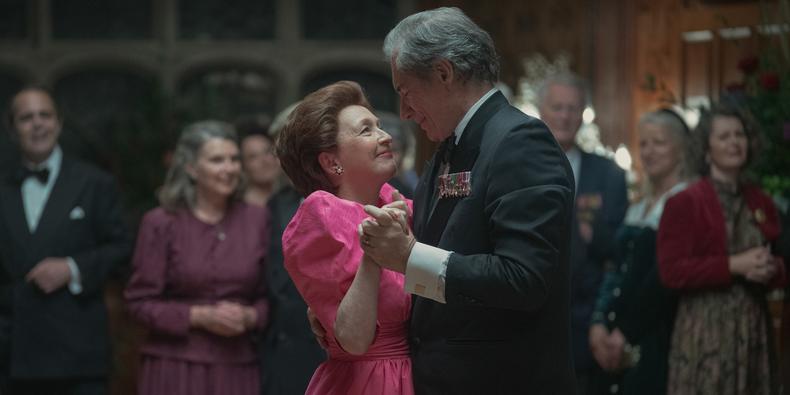 There's this amazing moment in Episode 4 of Season 5 when Princess Margaret wears a bright pink dress. What conversations did you have that led to this splash of color amid the more muted palette?
That episode is very melancholic, I think. Margaret now is a very depressed, sad, unfulfilled woman, but, equally, she's sparky, funny, and gutsy. There's an oomph there, and there's this extraordinary thing where she's going to meet Peter Townsend, the love of her life. He's always going to be the love of her life because they never married; [he's] always the one that got away. She is nervous as hell to meet him. I said, "Lesley, would she be discreet and delicate? Or has she still got balls?" And she said, "She's got balls." So I said, "OK, let's go for it!" I wanted to choose the brightest color—not a Schiaparelli gorgeous, tasteful pink, but a slightly off, '90s pink. I wanted her to be big, bold, and brave. I knew all the crowd would be in naval uniforms in the dark wood-paneled location. I thought, Let's make it pop in that room, and that's what we did. I think Lesley said she'd put it on and went for it. She felt great. That's the main thing for me.
Do you have any advice for actors about collaborating with costume designers?
To talk. I always say to young actors, "Don't feel you can't say anything." Established, older, confident actors will say a lot, but I think maybe younger people feel a bit shy or awkward. Say what you feel. You don't have to be aggressive about it. It's a collaboration with a capital C. Most designers will relish that. Bring something to the table; open the conversation.
Was there anything that surprised you about Season 5?
I was surprised because [we were] diving into the Mohamed Al-Fayed story in 1946. I didn't know anything about Mohamed Al-Fayed. That surprised me enormously; and then, suddenly, you're surprised by the Russian Revolution in 1917. You know that story roughly, but—wham! The shocking ugliness of it. It surprises me that after four years on a project, I am never bored for one second.
This story originally appeared in the Aug. 3 issue of Backstage Magazine.