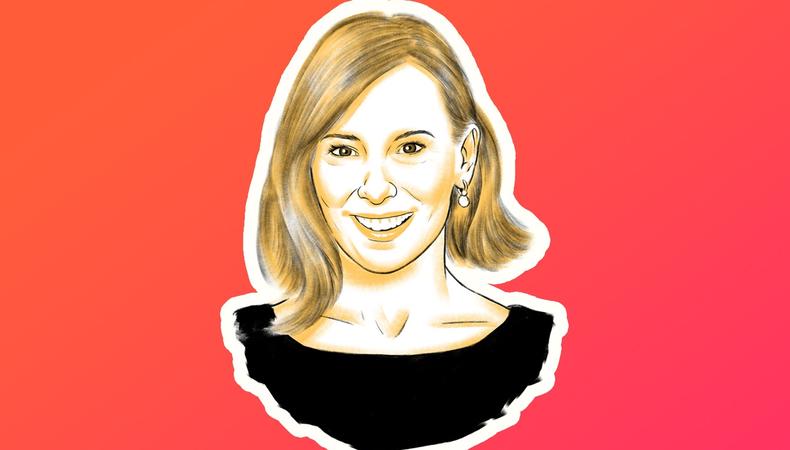 Oscar- and Tony-nominated actor Amy Ryan ("Gone Baby Gone," "Birdman") has been treading the Off-Broadway boards since age 19. Now, the New York native is playing a 19-year-old in Mike Bartlett's new play "Love, Love, Love," co-starring Zoe Kazan and Richard Armitage and presented by Roundabout Theatre Company at the Laura Pels Theatre through Dec. 18. She tells Backstage about the show, her audition advice, and her most embarrassing headshots.
Did you ever use Backstage in your early career days?
I actually had really good fortune when I got out of high school. I had an agent, so they were able to find stuff for me. But I certainly used to read it for the articles and just to keep tabs on what's going on. Just to make sure my agents were doing their job!
Tell us about 'Love, Love, Love.'
I love this play so much, it's so different. My mom was at the show the other night and said, "This is the best play I've seen in a long time. You know, the other play I liked this much was 'Cock.' " I go, "Mom, you know that's the same writer." She's like, "What?" When I saw "King Charles III," same thing. It's so hard to believe this is the same brain that dreams up all these different stories. I get very excited to go to the theater every night. Sandra, we first meet her in 1967, she's 19 years old and a student at Oxford. She's really excited by the changes happening in the world; freedom is coming and she devours it.
READ: "The Roundabout Celebrates 50 Years of Stellar Theater"

What advice would you give your 19-year-old self?
When I was younger I was so happy to work, I would kind of do anything. Which isn't necessarily a bad thing, because work begets work. But I would probably advise my younger self to be more patient. Quality, not quantity, matters more. Six months can feel like an eternity when you're not working. My mother actually gave me that advice. She would say, "Something better is around the corner." Just be patient. I would also save my money. I advise young actors today: Save your money. Borrow your friend's clothes for fancy parties, don't buy $900 shoes. If you save your money, you're going to be able to afford to do that play you really love that pays no money.
Do you have any audition advice?
This is really the truth: They want you to get the job. They want you to be the one—[then] their day is done. They were justified in bringing you in. They want you to win, they're not against you. If people know that, they'll have a bit more confidence walking in the room.
What was your first headshot like?
Haha! It's pretty big, my whole head is in the frame. Black-and-white, because I'm old. It looked like me, it wasn't some overly styled glam shot. I had good representation who guided me: "Be yourself, don't try to disguise yourself, wear the makeup that you wear in real life." It was the third headshot, a few years later, that was pretty awful. Just bad hair, getting into the early '90s, late '80s—big hair.
How do you like to prepare for an audition?
I don't memorize it or make it off-book because that would feel too much like performance. I still want them to see it's a work in progress but I would be very familiar with the lines. I would probably never need to refer to the page but I would hold the pages in hand. And I would make a strong choice out of the gate, whether it's right or wrong.
I've been a reader many times, which I think is a great opportunity for any young actor, if you have a casting director friend, ask to be a reader for auditions, because it's so illuminating how many people have this great opportunity to stand in front of a playwright or director or casting director, and they're not prepared—they rolled out of bed and just printed the sides out. It's staggering how many people aren't prepared. When you witness that you become very aware and you would be embarrassed to behave that way yourself, to waste their time and your time.
How do you approach your accent work?
["Love, Love, Love,"] it's interesting because it's 1967. I think everything is so much more homogenized now because of the Internet. Before the world of the Internet, you spoke as you did in your town. What's different with Sandra is she doesn't really like where she lives; she went to Oxford and I'm sure she dropped every regional sound she possibly had. She's probably sounding a bit more posh than she might have in her own town. I have a lot of English friends and I would just ask them and listen to them. Before we started I went to Steven Davis, who's a dialect coach. He's been working on our production as well.
It's just listening. And now the Internet is so great because you can put in any word, put in the name of a town, and hundreds of videos pop up. That's what I would try to do. And more so because I'm playing with the age span in this play, I was thinking more about playing with rhythms. I'm not physically going to convince someone I'm 19 years old, it's more of an energy. Younger people talk faster and are not as self-conscious—you know everything in the world. I was playing with that, and maybe with how deep my voice goes as I get older; she's a smoker, so over years that would take a toll, things like that.
What movie should every actor see?
It depends on what you're really interested in. I can say for me I wanted to play characters that people wouldn't believe were actors, just real people off the street. So I was heavily influenced by all of Mike Leigh's films. That helped me when I was younger, studying actors who were so removed from who they seemed to be in real life. I love that. But gosh, there's so many. I think you should study all film—study comedy, study dramas. You can learn something from everything. See plays, read articles, read books, somehow get tickets, see everything you can.
What special skills do you have listed on your résumé?
That part always stressed me out, because if I didn't write that I spoke other languages, that was going to cost me. Unless you really have something magically special, who cares? They're going to give you the job and hire someone to teach you to ride a horse. If you know how to literally juggle fire, and that's true, I'd put that on there. But other than that, you don't need to tell them you know how to ride a bike.
Off-Broadway is waiting for you. Check out our theater audition listings!