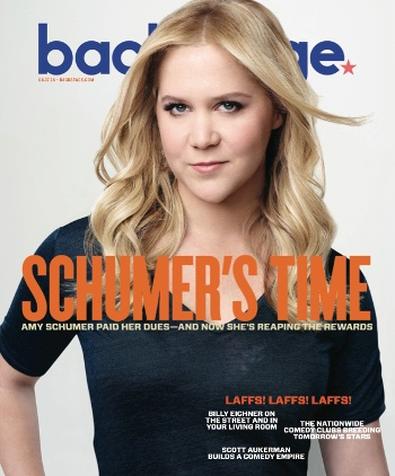 Amy Schumer graces our cover this week, and she chats with Backstage about the new season of "Inside Amy Schumer" as well as her starring role in the upcoming "Trainwreck" directed by Judd Apatow. Read the full story here!
---
Amy Schumer on Auditions
"Auditions are so embarrassing. They bring all of your childhood insecurities to the surface. You have to be a little insane [to go on auditions]. You have to be a little sick. A masochist.
"Open mics are the hardest because you're basically performing just for comedians, and no one wants you to do well. I sucked. Everybody sucks. But you get one laugh at a time. I had to surprise people into laughing, because nobody wants to laugh. Everybody is looking in their notebooks, preparing what they're going to do during their own set.
"When I cast for my show, I watch everyone's tape and I really give them my attention. That was something I promised myself I would do. It's really like 'American Idol.' When you watch, you know within the first three seconds. I look for somebody who makes me laugh, but effortlessly. Someone who commits to the scene and lives it out truthfully.
"The way I audition now, I just treat it like a rehearsal. I treat it like I already have the role and I'm just going to rehearsal.
"I auditioned to play a maid in a Broadway play starring Angela Lansbury. It was a really funny, great role. I prepared so much and I totally came in dressed like a maid—a French maid during the Renaissance. I went all out; I think I rented the costume. And when I got there, it became very clear that it was not that kind of audition. No one else was dressed like that. I want to say this happened when I was 19, but it was probably two years ago."