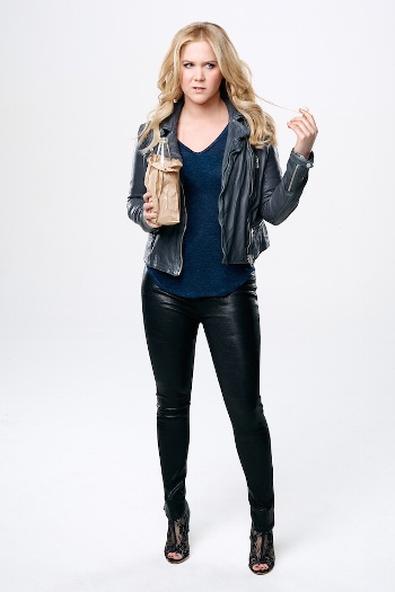 "Trainwreck" star Amy Schumer is no stranger to the survival job grind. Before breaking out with her unhinged, everywoman standup and the hit, Emmy-winning Comedy Central sketch series, "Inside Amy Schumer," she was an actor-comedian working to make ends meet in New York City as a bartender.
Recognizing her humble beginnings, Schumer found a generous way to lend a hand to fellow artists while at New York City's Richard Rodgers Theatre for the March 19 performance of "Hamilton."
"At intermission, a member of her party came to the bar with another order and when he handed the receipt to my coworker, he said, 'Amy wants to make sure you get this,' " Madeleine DeJohn, a "Hamilton" bartender and aspiring actor, told Gothamist. "We've served a lot of celebrities at 'Hamilton' and we've received some nice tips, but never before had I seen a tip that even came close to this one."
DeJohn later took to Instagram to show her gratitude.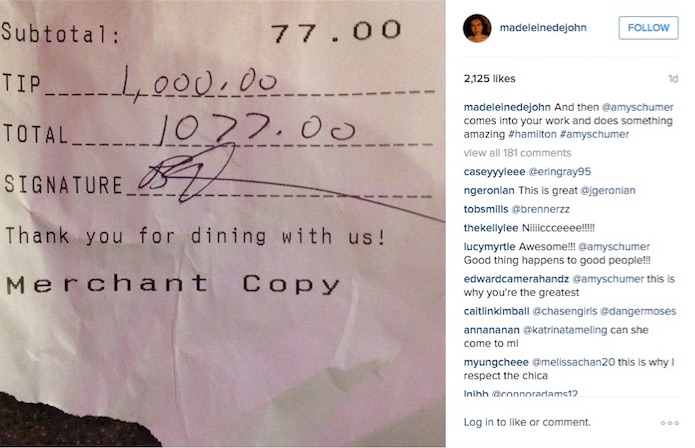 A true class act! Schumer also tweeted her support for fellow actors and artists when the story broke Sunday evening.
@megbakertv @CBSNewYork lots of love to my fellow bartenders and artists. I'm grateful to them and the cast and crew for another great night

— Amy Schumer (@amyschumer) March 20, 2016
"Most of the bartenders in my company are artists, myself included, and this is our survival job while we try to 'make it,' " DeJohn continued. "Amy knows what it's like to struggle in the service industry while trying to find success. When she came to the bar a few months ago and put $80 in our tip jar, I went up to her and thanked her and she basically was like, 'Of course, I've been there, I get it, you guys are great.' I've never encountered this kind of generosity before."
Are you or do you want to be an actor yourself? Check out Backstage Expert and New York acting coach Matt Newton's advice on how to become a professional actor below.
Inspired by this post? Check out our audition listings!