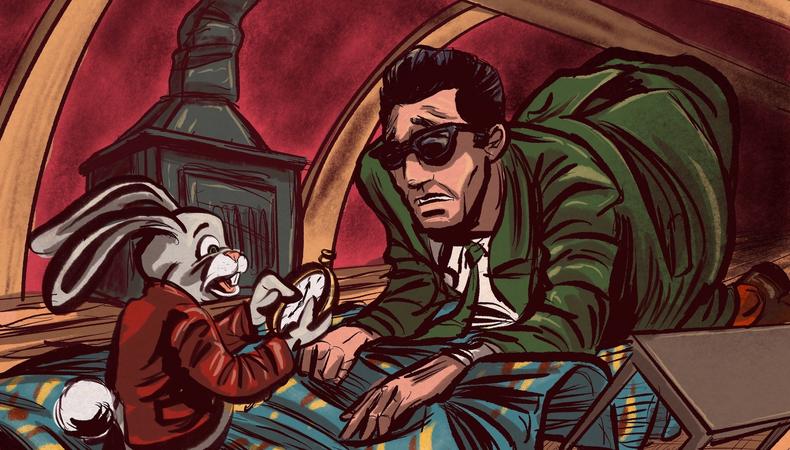 For those of you who believe agents have no soul, let me share one of my favorite ways to pass the time. Nothing gives me more pleasure than reading bedtime stories to my 9-year-old niece. And, no, I don't read her pilot scripts. That would be stupid. The last thing I want is for this innocent child to grow up and work in Hollywood; her parents and I are hoping she aims a little farther north, like Silicon Valley.
Anyway, my niece's favorite book is "Alice's Adventures in Wonderland." She's heard me read the story several times, and it never fails to entertain her. I enjoy the experience, too—except for the one character who reminds me of work. I'm talking about that dumb rabbit who's always saying, "Oh, my fur and whiskers! I'm late, I'm late, for a very important date!"
I've been an agent for more than 10 years, and I still have the same questions: What is it about actors and time? Why are they always late? Why can't they stick to a deadline?
I have a lot of clients who put themselves on tape for projects that are shooting in New York. The casting directors always give me a strict deadline to get those tapes in, and they won't accept them if they're late. This is because they have to download all of the Los Angeles auditions so they can review them and decide which ones will be shown to the producers. In these cases, the deadline is especially important because of the three-hour time difference.
READ: 3 Strategies for Staying Punctual and Professional
Sadly, I've missed a lot of those deadlines because my clients can't seem to get their acts together, even though they usually have at least a couple of days to get their homework done. It's gotten to the point that I have to tell them the tapes are due three hours before the actual deadline.
In addition to self-tapes, the worst examples of tardiness involve in-person auditions. Nothing gets my blood boiling like an actor calling to say he or she is running late for an audition. How is that even possible? We live in a world where technology can help us get anywhere on time.
Let me be crystal clear: There is absolutely no reason or excuse for an actor to be late for an audition. If you get in a car accident, abandon your vehicle and call Uber. The details can be sorted out later. If you're not feeling well and you're moving in slow motion, stop at Starbucks and pound a triple espresso—you can crash later. If you have a heart attack on the way to an audition, use the adrenaline shot you keep in your glove compartment to revive yourself—you can go to the hospital later!
Now multiply everything I just said by 10 if you book the job. Call times are carved in stone. If you're late, you might delay production, and that is an unforgivable sin. The casting director will hate you because they're the one who hired you, and your reps will probably drop you.
If you want to be taken seriously as an actor, you have to behave like a professional. That means being punctual. And if you can't handle that, it might be time to get your real estate license.
This story originally appeared in the June 20 issue of Backstage Magazine. Subscribe here.