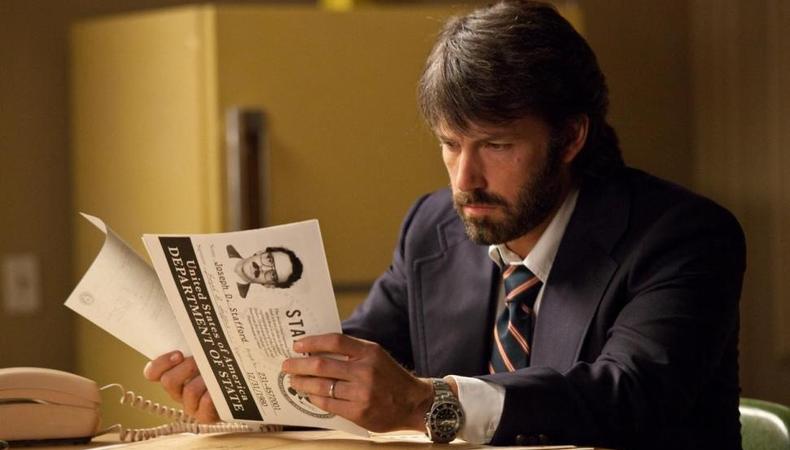 This Sunday night marks the last of guild awards before the Oscars: the Writers Guild of America (WGA) Awards. The West Coast show is hosted by Nathan Fillion, the star of "Castle" (which is not nominated, for the record), and you can actually watch the ceremony at 6pm PST here. The East Coast show is being hosted by Richard Kind, and will feature a tribute to Nora Ephron. The WGA Awards are tricky when it comes to lining up with Oscars. Many scripts aren't eligible for WGA consideration--this year, that includes "Amour," "Beasts of the Southern Wild," and "Django Unchained"--all of which received Oscar nominations. And though nominees were announced on Jan. 4, winners won't be announced until Feb. 17--which only leaves two days left in Oscar voting, not much time to influence voters.
So who is expected to win in the film categories? For adapted screenplay, many thought "Lincoln"--with a script by Tony Kushner--was the frontrunner. Then "Argo" began to pick up steam. Then "Silver Linings Playbook" took the BAFTA. All the while, voting was taking place. Many will say the Ben Affleck snub for best director at the Oscars shifted some love to "Argo." Plus, with all the wins the film has been racking up, it's probably the safest bet.
In the original screenplay category, it looks to be "Zero Dark Thirty." With it's main competitor "Django" out of the race--which won the BAFTA and Golden Globe for screenplay--the way is clear for Mark Boal to claim a prize. "Flight" and "Looper" are viewed as lighter fare, and "The Master" is just too divisive. If there's a spoiler waiting, I would keep an eye on "Moonrise Kingdom."
Below are my predictions, with winners in bold, for the major film and TV categories I felt qualified to comment on. (Essentially, I left off the news programming and children's TV. Though I do love some Nickelodeon.)
Best Adapted Screenplay
"Argo"
"Life of Pi"
"Lincoln"
"The Perks of Being a Wallflower"
"Silver Linings Playbook"
Best Original Screenplay
"Flight"
"Looper"
"The Master"
"Moonrise Kingdom"
"Zero Dark Thirty"
Best Documentary Screenplay
"The Central Park Five"
"The Invisible War"
"Mea Maxima Culpa: Silence in the House of God"
"Searching for Sugarman"
"We Are Legion: The Story of the Hacktivists"
"West of Memphis"
New Series
"The Mindy Project"
"Nashville"
"The Newsroom"
"Veep"
"Girls"
Lena Dunham is on a roll with recent Golden Globe and DGA wins; no reason to expect it to stop here.
Drama Series
"Boardwalk Empire"
"Breaking Bad"
"Game of Thrones"
"Homeland"
"Mad Men"
Probably a tight race between "Breaking Bad" and "Homeland," but the latter stretched credibility a bit too far recently, while the former just keeps getting better.
Comedy Series
"30 Rock"
"Girls"
"Louie"
"Modern Family"
"Parks and Recreation"
Oh, Louie CK. I keep predicting you to win and hoping your genius will be appreciated, and you keep losing to "Modern Family." But I'm not going to play it safe again. Why start now?
Episodic Drama
"Buyout ("Breaking Bad"), Gennifer Hutchison
"Dead Freight" ("Breaking Bad"), George Mastras
"Fifty-One" ("Breaking Bad"), Sam Catlin
"New Car Smell" ("Homeland"), Meredith Stiehm
"The Other Woman" ("Mad Men"), Semi Chellas and Matthew Weiner
"Say My Name" ("Breaking Bad"), Thomas Schnauz
I originally picked "Dead Freight" but the problem with "Breaking Bad" being so consistently outstanding is that it's tough to choose between the three nominated episodes. So the vote will likely be split, making way for the excellent "Homeland."
Episodic Comedy
"The Debate" ("Parks and Recreation"), Amy Poehler
"Episode 9" ("Episodes"), David Crane and Jeffrey Klarik
"Leap Day" ("30 Rock"), Luke Del Tredici
"Little Bo Bleep" ("Modern Family"), Cindy Chupack
"Mistery Date" ("Modern Family"), Jeffrey Richman
"Virgin Territory" ("Modern Family"), Elaine Ko
The smart money would be on "Modern Family," but again, it might split the vote. The "Leap Day" episode of "30 Rock" was one of their worst ever. I would love to see "Episodes" get some love, but it's more realistic for the equally wonderful "Parks and Recreation" to take the prize.
Long Form - Original
"Hatfields & McCoys, Nights Two and Three", teleplay by Ted Mann and Ronald Parker, story by Bill Kerby and Ted Mann
"Hemingway & Gellhorn", Jerry Stahl and Barbara Turner
"Pilot" ("Political Animals"), Greg Berlanti
This is a case of the lesser of three evils winning.
Long Form - Adapted
"Coma, Nights 1 and 2", John McLaughlin, based on the book by Robin Cook
"Game Change", Danny Strong, based on the book by Mark Halperin and John Heilemann
The one slam-dunk of the night
Animation
"A Farewell to Arms" ("Futurama"), Josh Weinstein
"Forget-Me-Not" ("Family Guy"), David A. Goodman
"Holidays of Future Passed" ("The Simpsons"), J. Stewart Burns
"Ned and Edna's Blend Agenda" ("The Simpsons"), Jeff Westbrook
"Treehouse of Horror XXIII" ("The Simpsons"), David Mandel and Brian Kelley
Hard to say, but the "Treehouse of Horror" episodes are always great.
Comedy/Variety Series
"The Colbert Report"
"Conan"
"The Daily Show with Jon Stewart"
"Jimmy Kimmel Live!"
"Key & Peele"
"Portlandia"
"Real Time with Bill Maher"
"Saturday Night Live"
"The Colbert Report" has won the last two years; no reason to expect it not to take the prize again.
Comedy/Variety--Music, Awards, Tributes, Specials
"66th Annual Tony Awards"
"2012 Film Independent Spirit Awards"
"After the Academy Awards"
"National Memorial Day Concert"
Awards shows love to award other award shows.
Daytime Drama
"Days of Our Lives"
"One Life to Live"
"The Young and the Restless"
Surprised last year's winner, "General Hospital," didn't make the cut. With it out of the way, expect the classiest of the bunch—"Y&R"—to win.