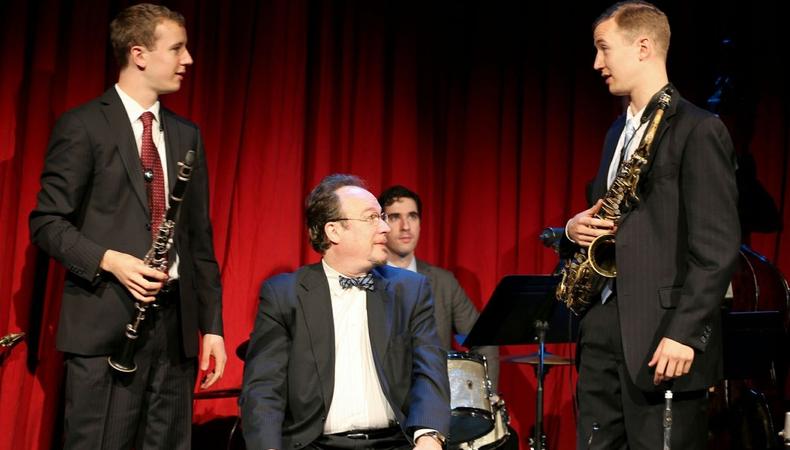 They had me at "What's My Line?" The black-and-white clip from the 1950s TV game show that introduces the fractious Tommy and Jimmy Dorsey, in a rare moment of détente, to us in the live audience makes it delightfully clear that we're in for a pop-culture time warp. A blindfolded panel of four celebrities asks questions of the mystery guests that can be answered "yes" or "no." Dorothy, Fred, Arlene, and Bennett are stumped for quite a while, not even realizing it's two people. If you need last names, go read something else, you're too young. No, wait; don't go. This show is too good. Kilgallen, Allen, Francis, and Cerf.
From this snippet on, it's really all about the music. Pete and Will Anderson, twins who are way too young to remember Tommy and Jimmy live, have neatly fashioned a 100-minute (with intermission) musical set that offers a welcome wallow to fans of 1930s and '40s big band music. The Anderson brothers are ingratiatingly adept at multiple instruments (Pete on alto sax, tenor sax, clarinet, and bass clarinet; Will on alto sax, clarinet, and flute). Together they front a nifty sextet, which on the night I saw them included Jon-Erik Kellso on trumpet, Kevin Dorn on drums, Clovis Nicolas on bass, and Jack Glottman on piano, an antique Steinway grand, no less. (Each of the non-Anderson musicians has a backup player on other nights, if needed.) They all have a high old time with such Tommy Dorsey signature songs as "I'm Getting Sentimental," "Marie," "Opus One," and "The Sunny Side of the Street," and with such Jimmy Dorsey staples as "Tangerine," "Dusk in Upper Sandusky," "Oodles of Noodles," and "Beebe," the latter three songs written or co-written by Jimmy. The remainder of the evening ranges over a variety of styles but always with jazz inflections, thanks to arrangers such as Sy Oliver, Tutti Camarata, and Dizzy Gillespie. Rimsky-Korsakov's "Song of India," Stephen Foster's "Swanee River," and the Negro spiritual "Deep River" all replicate the Oliver treatment here, with dazzling and infectious results.
Sure, I missed the Dorsey band vocalists a little—Frank Sinatra, Jo Stafford, and Helen O'Connell, among others—but this show isn't about them. Tommy's trademark trombone is also missing, but Kellso's soaring trumpet gives the numbers all the big brass they need. The show also isn't meant to be a bio-play in any sense of the word. The Anderson twins, who bill themselves as writers and directors, aren't playing Tommy and Jimmy, and their one attempt at depicting Dorsey-style sibling sniping is a nonstarter given the Andersons' obvious affection and admiration for one another. Just enough biographical context is provided by intermittent clips from the 1947 movie about and starring the pair, also called "The Fabulous Dorseys."
Leave it to print biographers to sort out the difficult psychology of the only two children of a small-town Pennsylvania music teacher and their largely separate but similar careers as major orchestra leaders. Enjoy their lasting musical legacies so lovingly rendered here.
Presented by Reardon-Anderson Music at 59E59 Theaters, 59 E. 59th St., NYC. Sept. 16–Oct. 7. (212) 279-4200, www.ticketcentral.com, or www.59e59.org.
Critic's Score: A-