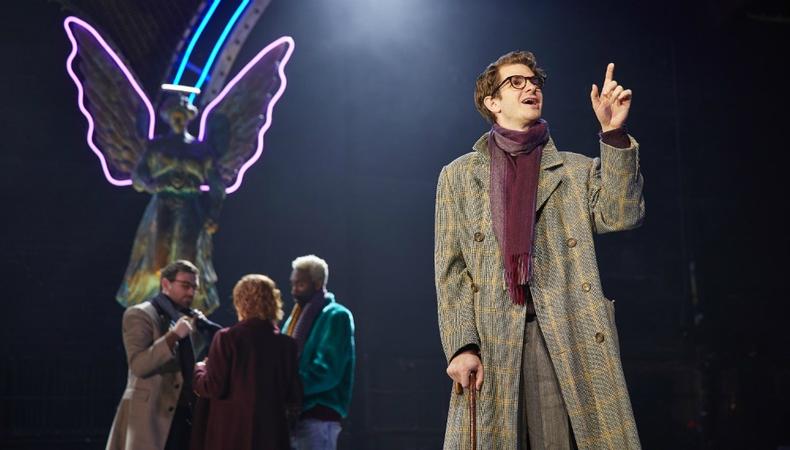 Held annually one week prior to the Tony Awards, the Drama Desk Awards mark the homestretch of the New York theater awards season frenzy. Perhaps that's why the 2018 ceremony, held June 3 at Town Hall, had an air of implicit-but good-natured fatigue.
"I'm so tired," confessed Nathan Lane as he lost his train of thought while accepting an award for his featured role in two-part behemoth "Angels in America." "Aren't you tired?" he posed to the room, eliciting both laughter and cheers.
In agreement, certainly, was "Carousel" star Jessie Mueller, arriving at the podium barefoot and hoarse to accept her honor for leading actress in a musical.
"I'm not not wearing shoes out of disrespect—I just couldn't do it," Mueller said, adding, "I know everybody's doing eight shows a week, most people in this room did a matinee, half of you are probably on Prednisone." But ending on a note of it's-all-worth-it-gratitude, she concluded, "It's a thrill to be able to do what we love every week."
Others ran with that sentiment, including Lane's "Angels" costar Andrew Garfield, who utilized his speech to express the adoration for his show and, more so, the audience's connection to it. "This play changes people nightly," he said, accepting his leading actor prize. "This is because of [playwright] Tony Kushner. He is a prophet, he is an angel of America—a true angel of America, the America that we want to live in."
The celebratory evening also featured performances from "Miss You Like Hell" star Gizel Jiménez, and "KPOP" star Ashley Park, twice-nominated this year for her leading role in that Off-Broadway musical as well as her featured role in Broadway's "Mean Girls."
READ: 14 Stage Stars Who Have Never Won Tony Awards
The Drama Desk Awards recognize achievements both on and Off-Broadway and are often considered a strong indicator for how the Tonys will shake out. In that vein, the night's most notable win was arguably Ethan Slater's in the leading actor in a musical category, besting both Joshua Henry for "Carousel" and Harry Hadden-Paton for "My Fair Lady."
Other big wins at the 2018 ceremony, hosted for the third year in a row by "Torch Song" star Michael Urie, included leading actress in a play Glenda Jackson for "Three Tall Women," featured actress in a musical Lindsay Mendez for "Carousel," and Gavin Lee in his featured "SpongeBob SquarePants" role.
With Tonys frontrunner "The Band's Visit" out of the running—it was eligible for its Off-Broadway run last season—"SpongeBob," ultimately, was the evening's big winner, taking home six honors, including for director Tina Landau and the coveted best musical prize.
Tina Fey also became a first time Drama Desk winner, nabbing the evening's only accolade for her "Mean Girls" musical adaptation. Fey, unsurprisingly, got the night's biggest laughs in her speech, and also ended the ceremony on a note of poignancy.
"I share this award only completely with our incredible cast; our six female principals, who have brought so much to making these roles their own," she said. "Our world is a dumpster fire right now and I personally believe that the only way forward is gonna be when we start treating each other with basic human dignity—and also, hopefully, jokes will help."
The Drama Desk Awards are voted on by theater critics, journalists, editors, and publishers who cover theater. For a full list of winners, head to the Drama Desks website.
Want to win a Drama Desk? Start with Backstage's theater audition listings!