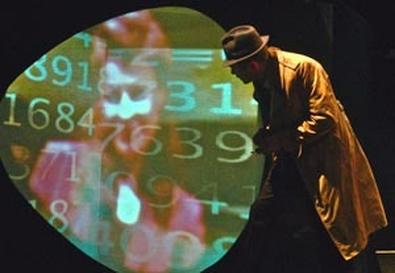 Science fiction may not be the most natural genre for the stage, but in this technically adroit production, writer-director Edward Einhorn has crafted an eerie, strikingly designed adaptation of Philip K. Dick's heady post-apocalyptic novel. Best known as the basis for the 1982 cult film "Blade Runner," the story combines science fiction and hardboiled thriller conventions in its portrait of a conflicted bounty hunter named Deckard (Alex Emanuel) who "retires" renegade androids. As the androids differ from human beings only in their lack of empathy, and as the supposedly more empathetic humans have reduced the world to a radioactive wasteland, the story raises some intriguing questions about "humanness" and moral responsibility.
It can be a confusing business trying to keep up with who is an android and who isn't, but that confusion is part of the point. Because the androids have memories (albeit false), apparent feelings (just not empathy), and a keen sense of their own self-interest, how much moral distinction is there between them and the alienated, rather sorry-looking humans, who attach themselves to electronic "mood organs" and dial up their preferred emotions?
Although I overheard a few grumblings about the performances, the emotional flatness that characterizes much of the acting fits in well with the play's airless atmosphere and theme of dehumanization. Einhorn's casting makes several nods in the direction of "Blade Runner." Emanuel's furrowed brow and unassuming good looks inevitably recall the gruff soulfulness of Harrison Ford, Yvonne Roen appears to have inherited Sean Young's tailored skirts, and Christian Pedersen's portrayal of Deckard's leather-clad and icily Aryan android nemesis bears a more than casual resemblance to Rutger Hauer.
But for the most part, Einhorn is concerned with evoking Dick's borderline-paranoid vision and in resurrecting those elements of the novel that were left out of the film. He's been helped considerably by Neal Wilkinson's stark, multilevel set and Jared Mezzocchi's imaginative video design, projected onto potato chip–shaped screens that appear to hover in midair. Although it might have been more effective if it hadn't been used in every single scene, composer Henry Akona's score, incorporating solo cello and a handful of dissonant art songs performed by Moira Stone, adds an atmospheric jolt to the proceedings.

Presented by Untitled Theater Company #61 at 3LD Art & Technology Center, 80 Greenwich St., NYC. Nov. 20–Dec. 11. Thu.–Sat., 8 p.m.; Sun., 5 p.m. (No performance Thu., Nov. 25; additional performance Wed., Dec. 8, 8 p.m.) (212) 352-3101, (866) 811-4111, www.theatermania.com, or www.untitledtheater.com.