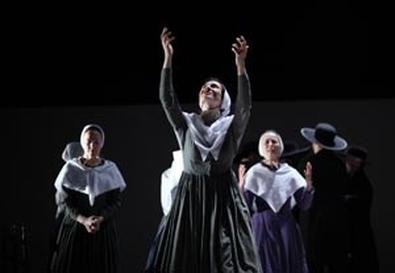 Directed and choreographed by Martha Clarke, with text by Alfred Uhry (the Pulitzer Prize–winning playwright of "Driving Miss Daisy"), "Angel Reapers" is an enthralling dance-theater portrait of an 18th-century Shaker community. The Shakers were a bizarre American religious sect best known for their celibacy, their elegantly simple furniture, and the well-known song "Simple Gifts," one of approximately 6,000 hymns supposedly composed by Shakers.

The riveting show is constructed of equal parts song, dance, and spoken text, all of which flow seamlessly together under Clarke's superb direction. However, it is the choreography that does the heavy lifting, powerfully conveying the deep emotional anxiety wrought by the suppression of sexual urges, leaving one in absolute awe of Clarke's gift for choreographic clarity. She repeatedly finds the simplest, purest, yet most potent physical shapes, body relationships, rhythms, actions, and energies through which to illuminate the essential qualities of these characters, their day-to-day lives, and the comfort derived from, as well as crises caused by, their strange religious beliefs. (The sect was named after the Shakers' practice of engaging in wildly vibrating, shaking movements, which they believed purged sin from their bodies.)

Drawn from historical writings, Uhry's fascinating text provides juicy information about the goings-on among members of the community—at night in the forest, groups of men would dance to the point of ejaculation—as well as the litany of strictly detailed rules by which the Shakers lived. For example, when clasping your hands in prayer, the right thumb and fingers should be placed above the left.

Under the inspired musical direction of Arthur Solari, the production's 11 top-notch dancer-actors also get the chance to display their singing chops, which they do with remarkable finesse. Often while moving about the stage in strictly choreographed patterns, or clapping their hands or stomping their feet in intricate rhythmic phrases, the cast sing a cappella solo and group arrangements of Shaker hymns. The music is stirring in its authentic simplicity, beautifully sung (with vocal coaching by Richard Armstrong), and wonderfully evocative of the moods and tensions that fuel the drama.

Though grim in tone and certainly not kid-friendly, this work should be on the must-see list of any serious theatergoer with an interest in understanding the strands of religious fanaticism that have always colored the fabric of American society.

Presented by the Joyce Theater Foundation, in association with Spring Lake Productions, at the Joyce Theater, 175 Eighth Ave., NYC. Nov. 29–Dec. 11. Tue. and Wed., 7:30 p.m.; Thu.–Sat., 8 p.m.; Sat. and Sun., 2 p.m. (212) 242-0800 or www.joyce.org.