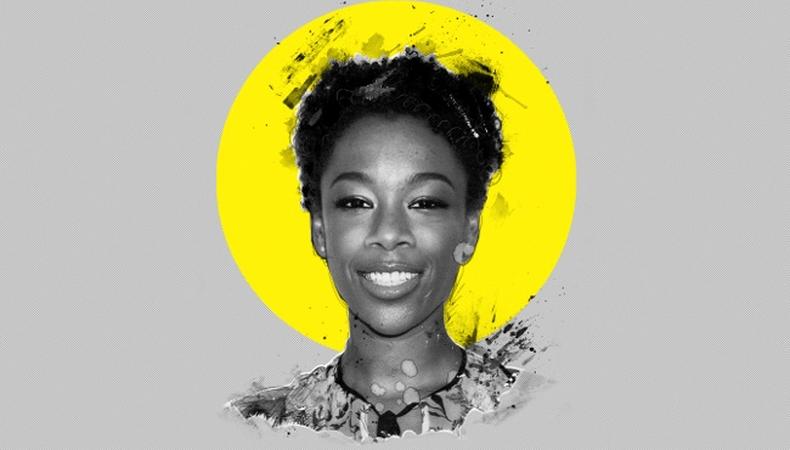 As the easy-to-love Poussey on "Orange Is the New Black," Samira Wiley bowed out with the Netflix series' most devastating scene ever in its unshakeable Season 4 finale. Now, she's back on our small streaming screens with Hulu's "The Handmaid's Tale" as the resilient Moira.
What has working on 'The Handmaid's Tale' added to your acting skills?
I think [Moira and I] have more in common than not, even just on a surface level of her being a black gay woman. There are so many things that I want to take from her in my own life. This show is utterly—scarily, even—relevant to the time we are living in, and she is the one who is going to stand up and be on the frontline. She helps me realize my responsibility as an actor to use my platform to speak up and do things that Moira is not afraid to do.
How did you prepare to audition for this role?
I actually like auditioning. I mean, of course it would have been horrible if I didn't get [Moira]; I would have been crushed, just because I wanted to play her so bad. [When preparing], I try to read the script at least twice. I think that reading the entire script is only going to inform you of who the character is. I did not read the [Margaret Atwood] book beforehand. I felt like all of the information that I would need in terms of the audition was in the script. I just tried to connect with the essence of who this person is rather than completely understand the world of Gilead.
Have you used Backstage in the past?
Yes! That's one of the things that I remember being something that I was "supposed to do." Absolutely.
READ: Why 'The Handmaid's Tale' Cast for Diversity in Dystopia
What's your most memorable survival job?
I was a bartender for a pretty long time. I actually remember being cast in a show and I was like, "All right, this is it! I got it. I made it." It was a recurring role, and we did the pilot, and the pilot got picked up. Then we did the second episode, and I felt so great—and then they never called me again. When I was bartending, that's when I got the audition for "Orange Is the New Black," and I was so afraid that [my character] was going to get out of prison or just not be written in anymore or something like that, so I did not stop bartending the entire time we filmed Season 1. I just felt like I was not going to be asked back. I would film all day and then I would work on weekends and I would work at night. It's actually pretty funny now that I think about it.
What advice do you have for early-career actors living in New York City?
I actually just moved to L.A. about six months ago or so. I lived in New York for 10 [or] 11 years, so really, my whole career is there. There are a lot of different classes in New York that people can go to. I think there's so much to be gained from that—to just immerse yourself in the network of people who want to do the same thing you want to do.
What advice would you give your younger self?
I think the biggest thing that I would just say is, "You're OK exactly as you are." I hear a lot of people [say], "Just be different!" And I think that while they have good intentions, it can be hard for a young person to hear because they feel like they need to do something to stand out and be different rather than just be themselves. So I think I would just want to tell myself and any other young person out there that literally whatever you are, whoever you are, you're OK.
What movie should ever actor see?
I was 10 and I knew I wanted to be an actor. All I wanted to do was to be able to look to TV, look to film to see someone who looked like me so that I knew that it was possible. And when I was in high school, I saw the movie "What's Love Got to Do With It," where Angela Bassett and Laurence Fishburne portray the infamous relationship of Ike Turner and Tina Turner. And, gosh, to me, that was such an amazing portrayal of real people. I pick that one specifically because they're not fictional characters. Tina Turner is still alive, and the way that Angela walks, the way that she talks, the way that her body even looks is such dedication to bringing life to that and bringing authenticity to that. So that movie really, really sticks with me. I'm saying it as a young black girl, but it has something in it for everyone.
Want to work on a Hulu series? Check out Backstage's TV audition listings!