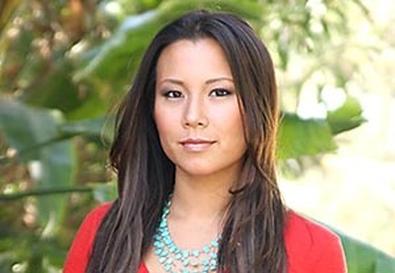 "I come from a pretty traditional Chinese family, yet I'm this oddball out because I'll just hop on a plane and go somewhere and swim with the sharks," says Angela Sun.
A self-described "adventure traveler, docu-journalist, sports lover, and tech geek," the range of Angela's activities is overwhelming. She currently has three hosting jobs, yes three, at Yahoo! Sports Minute, the Tennis Channel, and at NBC's LXTV First Look.
In her limited free time, she's working on a documentary about the environmental effects of the huge garbage heap floating around the Pacific near Midway Atoll island.
Chosen as this week's Girl2Watch, Angela will be featured in a series or articles, fun facts and social media tweets through this week for subscribers of
Girl2Watch.com
.
ACTOR2WATCH
: What was your first real break as a host?
ANGELA SUN
: I did a national show in 2003 called 54321 on Fox Sports—Fox Sports Net. It was a sports show and I co-hosted it with two guys. That was my big break.
A2W
: What kind of training did you get?
AS
: I did hosting workshops. I worked with voice coaches. I trained theatrically too. I've always sang. A lot of people don't know, but I used to sing mezzo soprano so I had a vocal coach for voice for singing. So I'm classically trained which really helps with your presentational skills.
A2W
: Tell us about your path to becoming a host.
AS
: I interned a lot. I've definitely paid my dues. I try to appreciate every part of the production team because I was the person getting the coffee, and picking up the talent's dry cleaning, and logging the tapes, and transcribing. I never got handed anything on a silver spoon. I've always had to work really hard. My mom calls me really stubborn because I'm just very determined and driven.
A2W
: How do you use the Internet, and Facebook, and Twitter to promote your career?
AS
: I think it's really important to use social media nowadays, especially seeing the impact that Yahoo! Sports Minute has. Whenever we're on the front page – there's been days we get two million hits, 1.8 million hits. And to reach that amount of unique viewers, that's more than some TV shows do.
So I think that social media is definitely really important. And having a Facebook and having a Twitter page is crucial because people want to know you're accessible. I've had people who have emailed about career questions. I try to answer and respond to all the emails because I was there once. I was that person asking these questions.
A2W
: Do you have any tips for novices or is there anything you wish someone had told you when you first started out?
AS
: When people say, "Oh, that's so cool what you do. I wish I could do it too." I'm always like, "You can do anything you want if you really want it." When I didn't have any footage and I wanted to get into it, I just went and shot it. I put a camera on a garbage can as a tripod and just practiced, and just shot stuff, and watched things and learned. A lot of it is trial and error.
I think one of the tips that I would give somebody is if there's anything else that makes you happy career-wise, go do that because this is one of the hardest fields to get into because you will always be disappointed. Your hopes will always be dashed and you will fall flat on your face many times.
But at the same time, it's one of the most amazing experiences, the most rewarding, and if you can navigate through that with good friends, a solid support system, a good head on your shoulders—and never get above yourself because you can always learn. Every single time that I feel like, "Oh, I've made it to where I want to be."
I'm humbled, because I look back at where I was a couple of months ago or a couple of years ago and see how far I've moved along and realized there's always room to grow and there's always room to learn.