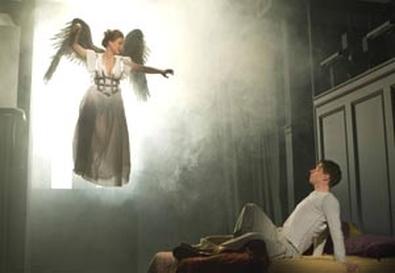 Signature Theatre Company offered the theatrical event of last season with its extraordinary production of Horton Foote's "The Orphans' Home Cycle." Though it's a bit early to say, the company may have pulled off that feat again, thanks to director Michael Greif's equally extraordinary production of Tony Kushner's "Angels in America: A Gay Fantasia on National Themes." One thing's for sure: This production makes it clear that Kushner's seven-hour, two-part epic belongs in the first rank of great American dramas, alongside such masterworks as "Our Town," "Death of a Salesman," "A Streetcar Named Desire," and "Long Day's Journey Into Night." What's more, it's proof that despite Mike Nichols' fine film version, the only way to experience the work's full impact is in its original home: the theater.
"Angels" chronicles the early days of the AIDS epidemic, which took place during the Reagan administration, when contracting the disease was a certain death warrant. For the gay community, already facing toxic levels of bigotry and state-sanctioned discrimination, it was a time of mourning in America. But the epidemic was also responsible for galvanizing the gay rights movement. The personal was inextricably bound with the political, which is how Kushner structures his play. At its core are two couples: Prior and Louis, reasonably happy lovers of four years, and unhappily married Mormons Joe and Harper Pitt. Both relationships are immediately put at risk: Louis bolts when Prior is diagnosed with AIDS, while Joe finds it increasingly difficult to suppress his homosexual leanings. The political element is introduced with Joe's mentor, the rapacious right-wing powerbroker Roy Cohn, based on the real-life, deeply closeted lawyer. The stories begin to intersect in ways both realistic (Joe and Louis become lovers) and phantasmagorical (Prior enters the dreams of the Valium-addicted Harper, though they've never met). Added to the mix are Joe's mother, Hannah, who follows her son to New York City after he tells her on the phone that he's a homosexual, and Belize, an African-American nurse and former drag queen who becomes Prior's caregiver. Oh, yes, and then there's that angel, who comes to earth to declare Louis a prophet.
In 1993, in director George C. Wolfe's landmark Broadway production, "Part 1: Millennium Approaches" opened seven months before "Part 2: Perestroika" joined it in repertory. Now, seeing both parts in one day makes Kushner's overall structure much more apparent, with fantastical elements invading realism with greater frequency, until the seething sense of chaos that gay people lived with back then is perfectly expressed in both theatrical and overwhelmingly emotional terms.
If Wolfe's work sometimes sacrificed nuance and subtext for gloss and flash (there was great skepticism along Broadway about the show's commercial prospects), Greif finds what seems to be an almost perfect balance, and his cast is perfection itself. Christian Borle, heretofore known for his work in musicals, is funny, ferocious, and deeply affecting as Prior, never better than when stalking about in high prophet mode. Zachary Quinto is a marvel as Louis, fully embracing the character's many annoying and unlikable qualities and yet somehow making us care about him. Zoe Kazan's innocently girlish Harper is a bit of an untraditional approach, but the diminutive Kazan can convey almost anything with those wide eyes, from demented glee to strangulating anger. Bill Heck continues to prove himself one of our finest young actors, delivering an achingly vulnerable Joe, whose confusion and torment are almost unbearable. Frank Wood is a mesmerizing, reptilian Cohn, equal parts glamour and gall; his rendition of Cohn's explanation to his doctor of why he's not gay is as chilling as it is amusing. Billy Porter's excellent Belize can switch from sassy to serious in a nanosecond, and Robin Weigert's angel is a wonderful cross of haughty supernatural with unraveling bureaucrat. Robin Bartlett steals every scene she's got, whether playing the flinty Hannah, a bemused male rabbi, the crotchety world's-oldest-living Bolshevik, or the gimlet-eyed ghost of Ethel Rosenberg, whom Cohn sent to the electric chair. (The rest of the cast also stylishly doubles in smaller roles.)
Mark Wendland's ingenious double-revolve set, maneuvered by black-clad stagehands in a nice Brechtian touch, combines with Wendall K. Harrington's projections and Clint Ramos' period-setting costumes to keep the mundanity of New York City ever-present amidst the hallucinatory fantasy, except when that's inappropriate, such as during Harper's drug-addled journey to Antarctica. "Bloody Bloody Andrew Jackson" composer Michael Friedman teams with Chris Miller for the effective incidental music.
This revival of "Angels in America" sold out before it opened, prompting Signature to announce not one but two extensions, for which some seats are still available. I wouldn't let the grass grow if I were you.
Presented by and at Signature Theatre Company, 555 W. 42nd St., NYC. Oct. 28–April 24. Schedule varies. (212) 244-7529 or www.signaturetheatre.org. Casting by Telsey + Company.