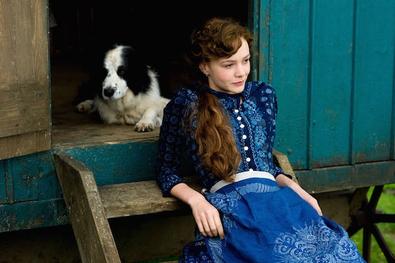 In their effort to build up the international film community in Hollywood, NewFilmmakers Los Angeles (NFMLA) has partnered with Fox Searchlight to present a free movie screening as part of BritWeek, a weeklong celebration of U.K. cinema, music, and art. "Far From the Madding Crowd," Thomas Vinterberg's new romance film starring Carey Mulligan, will be screened at the UCLA James Bridges Theater on April 30. Tickets are free and disappearing fast, so visit newfilmmakersla.com soon.
In addition to several other events perfect for Anglophiles, BritWeek and NFMLA are also exhibiting a Focus on British Short Film on April 27 at the AT&T Center. Attendees will be treated to a total of nine short indie films followed by Q&As and open bar receptions. "From a dystopian London, to a young woman's descent into an alluring clandestine world, to a tale of brotherhood across borders and fragile peace in the midst of wartime, to a forbidden love story told through breathtaking modern dance, these stories whisk us away to the U.K. that was, the U.K. that is, and the U.K. that could be," reads BritWeek's website.
NFMLA is a non-profit geared toward showcasing innovative films from around the world and providing Los Angelenos monthly screenings and discussions. If you're an avid filmgoer looking to meet the creators behind some of the most innovative documentaries, shorts, and feature films, check them out!
Want more L.A. news? Sign up for our Backstage L.A. newsletter!