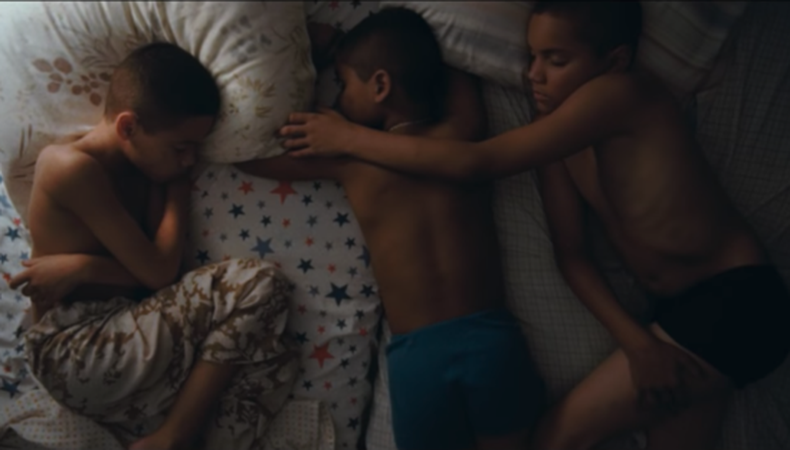 At the center of "We the Animals" (in theaters today) are three young brothers. They are each other's best friends, safe places, and platforms for discovery. Rarely apart, they spend their days using their imaginations and sense of curiosity to shield them from a tense and volatile home situation. The film was adapted from Justin Torres's novel of the same name, which, in turn, was inspired by his own life. With that background, the casting of the trio of brothers was essential to the success of the film.
Director Jeremiah Zagar, who optioned the novel after reading it in a single sitting at a book store, makes his fiction directorial debut with "We the Animals", approaching the coming-of-age story with a documentarian's eye. The roles were not created for seasoned child actors but for raw talent who could internalize the characters. Production was pushed a year when Zagar and the team struggled to find its Jonah (eventually played by Evan Rosado). To bring the story to life on screen, a lengthy casting process, work with an acting coach, and an unusual dialogue between director and actor were required.
What was the adaptation process like?
There were two requirements for me. One was, I had met with Justin, and he really wanted to make sure this is a queer movie. Because I'm not gay I brought on my co-writer Dan Kitrosser, who is a very close friend of mine and actually has similar experiences to the young man in the movie. We wrote the screenplay together. The other thing was that Justin had to be as involved as possible. He was involved every step of the way. No matter how much I loved the book and how much I wanted to translate it into a movie, I wouldn't have been able to do it without him as the real heart and soul of the story. He read every draft of the script, he was on set for the whole time, and also through the edit.
What was the process of creating characters from the novel for the screen?
All we did at first was translate the book. The first draft of the script was literally just the book in screenplay format. Then we started augmenting it because it wasn't working, so we'd make changes and develop characters differently. The biggest thing was the young men didn't read the script, they didn't memorize their lines. They learned their lines on the day. They had scenarios and they knew what they were doing, but they didn't know their lines, so they'd come in and learn their lines with their acting coach, and she would walk them through the emotional base of the scene with me, and then they would just explode. Because it wasn't rehearsed and because it wasn't planned out, it just felt so alive. It was so natural.
What was your role in the casting process?
We had a grassroots casting director, Marlena Skrobe, who found the kids. At first, I was going out on the street and trying to find kids, but I'm a creepy old dude, I have a beard, people were just like, "You want my kids?" They were confused. Marlena is very charismatic; people were much more open to her. She would go into schools, to parades, and she was putting up flyers all over the city. She would stage these 20- to 30-person casting sessions, and then when there was a really great young man, they would come in for a callback with me and we would keep narrowing it down. That was over a year and a half period of time. We found Isaiah [Kristian], who played Manny, and Josiah [Gabriel], who played Joel, very early on. We couldn't find Jonah so we had to postpone shooting a year because we didn't have the right young man. Eventually, we found we found Evan. He was very shy and he was very nervous about acting. He'd never yelled before, he'd never emoted before, so we had an acting coach, Noelle Gentile, who worked with the young men throughout the entire process for that year and a half, and she would do workshops with them. Not only were we casting, but also, in a way, rehearsing. We wouldn't rehearse with the script; she would create these scenarios and then the young men would rehearse those scenarios and we'd film it all. We were sure by the time we were ready to shoot that they were the right young men. They had become these incredible actors through the process.
What were the auditions like?
We knew we didn't want child actors immediately. We had auditioned some actors and it was wrong for the plot of the film. We knew we needed kids who had no training so that they could be really natural. Instead of making the young men have to become a role, we wanted the role to become the young men. We were casting for young people that grabbed the screen. We had to find three of them and they had to be the right age and they had to look alike, so it was sort of a miracle, but we did find them.
What was something that made the kids right for the part?
When you see a thousand young men, you just know that when one is amazing with the acting, they just pop, they explode, they just grab the screen. All those young men, Isaiah, Josiah, and Evan, you put a camera on them and they just grab it in a way that other kids and other young men don't. None of the young professional actors we saw grabbed the screen the way they grabbed the screen.
READ: 5 Ways to Tell If Your Child Is a Natural Actor
How did you interact with kids that didn't have experience on a set?
It was similar to making a documentary for me. Working with the kids was the easiest part. Working with them as young men is often difficult because young men are young men and they're as wild as those you see in the movie. The more they would act, the more method they'd become, and the wilder they'd become. They also watched Raul [Castillo], who played Paps, and Sheila [Vand], who played Ma, who are these incredible actors. They would watch them practice their craft, they'd watch them listen to music and get into character and get in the zone, and they would want to do the same thing.
How did the characters morph from what you had written in the script to when you had people actually playing them?
The way they morphed wasn't written. They would do their written roles, but they were so astute and adept at the scenarios of the scenes that we allowed them to improvise for every scene. They would have to do the lines but then they'd also have moments to improvise, to bring their own special, unique humanity to those scenes. I remember with Josiah especially, sometimes I'd just say, "Josiah, can you just light up the screen? I just need you to light it up," and he would just go ahead and light it up in a unique way. He's just a funny, alive kid; he smiles and the screen sparkles. That was such a wonderful tool to have as a director, where you have these actors who are so charismatic and you just need to say, "Isaiah, give me gravity, Josiah, light it up, Evan, just look at me." We had a freedom between us because we'd only ever worked together. I'd never directed actors before and they'd never worked with a director before. Our shared language was our own shared language, and it was pretty lovely to have.
How was your directorial debut in fiction different from the directing you've done in the past?
I never directed actors before, I'd only directed actors in the Sundance labs. The person who taught me how to direct was Ed Harris. His one really big takeaway was be confident, you know what you want. The truth is, that was all I had. I knew what I wanted, and I didn't know how to help the actors necessarily get there. What Raul and Sheila and the boys did was they trained me to be a better director. They showed me how they executed their craft. It was beautiful for me to watch. And Noelle Gentile, the acting coach. They showed me what it meant to be an actor's director. I'm still learning.
What made it so different from other filmmaking you'd done?
I had more control. In having more control, I also had more responsibility, and that was different. When I'm dealing with subjects, I have less control and therefore less responsibility in some ways. It was a surprise to have every single person looking to me for direction when I didn't always have it. It was a new experience for me and something that I'm very humbled by and very excited to do again.
How did your previous filmmaking prepare you for this, even if there were a lot of things you didn't expect?
We tried to shoot the movie as much as we could as if it were really happening. We created a documentary environment where the families were living together and we would do sleepovers in the house and we tried as much as possible to create an environment that was not a set, that was a real place, that was as realistic and true to the environment as possible, and that was from my documentary experience because I really didn't know how to do it any other way.
What is something that you wish actors knew about your role, whether it's a writer or a director?
Directors are not autonomous; we don't have the amount of power that people think we have. Filmmaking is a collaborative process and we're collaborating with the actors and also with the producers and the DP's, and everybody involved. We very much want to collaborate with the actors, and we want to learn from them. We don't know their craft necessarily as well as they do, and we want to understand how to help them get to wherever they can. That's about conversation and intimacy and process. We're insecure, fragile people as well [laughs].
Check out Backstage's kids auditions!