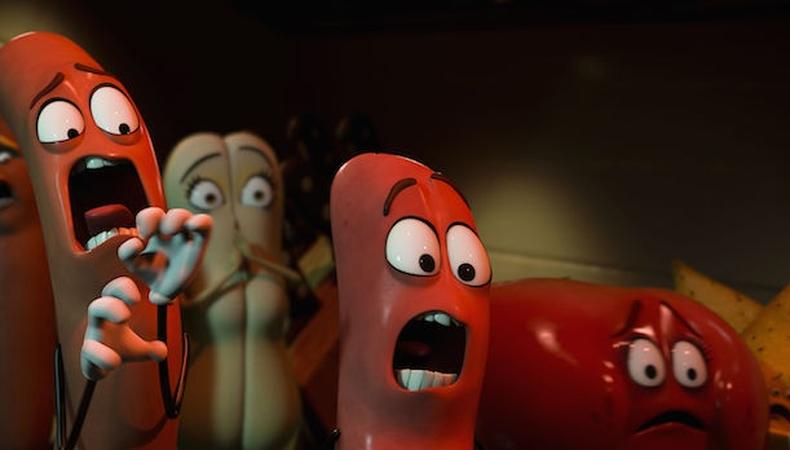 "Sausage Party," due out in theaters Aug. 12, is the most recent animated project to take the sparkly world of Pixar and turn it on its head with graphic bouts of hysterical, dark violence.
Created by Seth Rogen, Jonah Hill, and Evan Goldberg (Rogen and Hill also voice characters in the film), the film's trailer starts with a peppy musical opening of anthropomorphized foods, joyous over their place in the shopping cart. It isn't long before they discover what humans really do to their food in the kitchen. "They're eating children," screams a frankfurter—named Frank, of course—as he watches a woman chuck two baby carrots into her mouth. Audiences get a close-up look at them as they get chewed while screaming for their mommies.
Some adults, like the California movie theater employee who played a trailer for the R-rated film before a screening of "Finding Dory" back in June, assume animated films are only for children, but as that mix-up proves, cartoons can be made for adults, too. To celebrate the arrival the first R-rated CGI film, here are five more animated films not made for children.
"Anomalisa"
In late 2015, Charlie Kaufman, creator of "Eternal Sunshine of the Spotless Mind" and "Being John Malkovich," dropped a heartbreaking, existential bomb on the film industry with his stop-motion-animated film "Anomalisa." Featuring the voices of David Thewlis, Jennifer Jason Leigh, and Tom Noonan, it explores the very adult, daily struggle to connect with others as we circle around our own mortality.

"Persepolis"
Winner of the Grand Jury prize at 2007's Cannes Film Festival and nominated for an Oscar, the monochromatic "Persepolis" follows a young girl living during the Islamic Revolution in Iran in the 1970s. Based on the autobiographical novel by Marjane Satrapi, who also directed the film alongside Vincent Paronnaud, it's a gorgeous look at a lonely, rebellious teenager who finds her surroundings matching her desire for upheaval—if not the type she or any other free-thinking woman would wish for. The film was originally released in French with English subtitles and was later dubbed for Anglo audiences.

"Who Framed Roger Rabbit"
A classic and a feat of artistry, 1947 Hollywood never looked so good. It's an homage to animation, the struggle of the actor, and film noir mystery all in one. The three-time Oscar winner follows a cartoon rabbit and actor whose only hope of proving his innocence after being accused of murder is toon-hating detective Eddie Valiant (Bob Hoskins). It's funny, it's touching, and as an adult you'll appreciate just how much work went into making this film great.
"Fantastic Mr. Fox"
Like "Shrek" before it, "Fantastic Mr. Fox" is a film that children can watch for the entertaining visuals and storyline but that only adults will fully grasp. Based on the story by Roald Dahl and featuring characters voiced by George Clooney, Meryl Streep, and Bill Murray, Mr. Fox must figure out how to save his family and fellow animal friends from three vile farmers. Like many of Wes Anderson's films ("The Royal Tenenbaums," "Rushmore") it focuses on a semi-dysfunctional family's attempts to save themselves from each other and everything else. Nominated for two Oscars, it's right up there with "The Grand Budapest Hotel" as some of Anderson's finest work.

READ: "10 Ways You're Actually the Next Meryl Streep"
"Chico & Rita"
This film's sex scenes are hotter than most animations you'll come across. A story of love, passion, music, and Cuban-American relationships, hailing from Spain, this Oscar nominee unfolds like a bolero, the tragic ballad born out of Latin America, about two lifelong lovers united by music and torn apart by politics. It take them from Cuba to New York City, Paris, and Vegas, and back again as the two pursue fame and each other to varying degrees of success. In addition to the great animation, the film's music alone is worth checking it out.
Looking to star in an animated film? Check out our film audition listings!