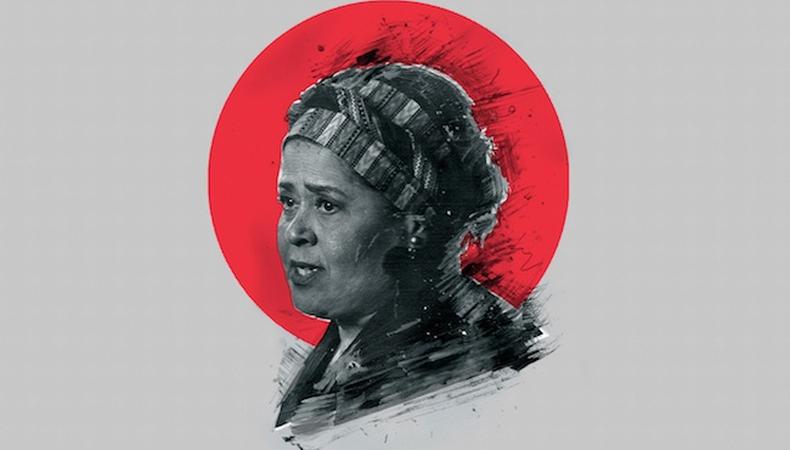 Anna Deavere Smith is an actor, playwright, and drama professor, best known for her masterful solo performance style. Since 1992's "Fires in the Mirror," she has paved the way for performer-playwrights looking to capture real life onstage. "Notes From the Field," premiering on HBO in February, is adapted for the screen from Smith's 2016 Off-Broadway play, a resonant and relevant investigation of the American school-to-prison pipeline. The "Black-ish" and "Nurse Jackie" star tells Backstage about the tough world of auditioning.
Did you ever use Backstage in your early acting days?
I used to use Backstage to look for possibilities of auditions and stuff. It came out once a week and had blue writing on the headline. It's probably one of the first professional journals I bought when I arrived in New York.
[I auditioned for] anything, anything at all!
What advice would you give your younger self?
You know, it was so hard. It would be stuff everybody's already heard: Don't give up. And don't trust anybody who makes you feel bad about yourself in any way for any reason, including agents, casting directors, friends. It's not a career I would recommend, even though I teach artists and love artists. It's really, really hard to survive, and you have very little authority—unless you become a movie star, and hardly anybody is.
READ: 8 Actor-Writers All Thespians Should Study
Did you have any memorable survival jobs?
Before I knew I was going to be an actor, I was the assistant manager at a drive-in movie theater in Belmont, California. It was a drive-by kind of place where stewardesses and people like that lived, a desert of a place. I will never forget it. People just came there to neck in their cars.
What skills did you gain this time around doing 'Notes From the Field,' your newest solo show?
That's a good question. I think the most concrete thing is every single time I start working on one of these one-person shows, I try to move the ball down the field a little bit more, in terms of understanding what kinds of skills I need. I now work with a very good dialect coach named Amy Stoller and a very good movement coach named Michael Leon Thomas. In a way, the three of us have grown together, if that makes sense, in terms of each one of us understanding more about what this genre requires. We did all develop what was in many ways a piece that never got produced, a play that never got further than a staged reading, but we all made major advances in how we worked and we were able to apply that to "Notes From the Field." Any time I have a project, I'm trying to refine my skills. I don't know if it affects the acting I do. Right now I'm on a show for ABC in Shondaland called "For the People," and I don't know if those skills I've developed over time make me a better actor—or whether being on "Nurse Jackie" for years, did that help? You can't tell. It's all one thing. It's also a different skill set, what I need to do for my own work and what I need to do for television and movies.
How do you refer to this genre of interview-based theater you've pioneered?
I did pioneer this genre. What's interesting about that is just how much the pioneering part of it never stops. I wasn't trying to pioneer anything, I was just trying to express myself in a certain way. Then other people—even that I get compared to—are doing what they think it is, but it's different from what I think it is. For example, I don't think what I'm doing is mimicry at all or impersonations.... People started to call it things [like] "docudrama." Now, I would say, many years into it—I started working this way in the late '70s; it's getting embarrassing to say that because that's a long time ago!—now I say it's making portraits of people.
Was executing "Notes From the Field" on film different from its staged production?
In some ways, yes, because the director is a film director. And she had a vision that was different than the theater director. Also, I'm an executive producer. It's not that more was required of me—because in a way I'm a pretty significant producer of my theater works as well, because I have to raise money to do all the research, and to make this we went to a couple of very dangerous places—so I always have to take a significant amount of responsibility. But being executive producer is yet a different realm of work.
I was also very active in the editing room. Originally, Jonathan Demme was going to direct this and, as you know, he died. Before he died, I asked Kristi Zea to [help].... [Demme] knew he was not well enough to do it on his own. And even though Jonathan passed, his whole team stayed on the project, which was a real gift to me. But I think because Jonathan wasn't there I was probably more active in the editing room than I would have been if he'd been there. And I must say the work in the editing room isn't too much different than the work I have to do to whittle down, in this case, 250 interviews into a 90-minute play. It's just I'm looking at myself rather than just working with recordings.
How did you first get your Equity card?
My Equity card was just luck. I was at the American Conservatory Theatre in San Francisco. It was when Bill Ball was in charge, an extraordinary man. They didn't have an MFA program yet, but they had a conservatory program. And the first year there were 45 students in it, and the second year they whittled that down to 15, very competitive. I survived, I made the cut. And I came back for my second year of being in the conservatory and there was one black actress in the company and she quit. So I had just gotten back and was given her position in the company!
Do you remember what your first headshot was like?
Yes. It did not look very good. I was on a roof. Somebody took me out on a rooftop and it was one of those things where you wear a shirt with a collar and you're trying to look like a housewife, a soccer mom. You're trying to make yourself commercial. I don't sound very celebratory about our craft, do I?
Then I had a guy who took my picture who sprayed water on me. I couldn't believe it. In the middle of the shot he sprayed water in my face. And he said, "The black girls don't like when I do this." Ha! Again, if you do this profession, you can't let anybody make you feel bad. You have to be really strong.
Do you have any audition horror stories?
Oh, there are so many. I don't audition well. My agent at the time never had any good news to report. She was very candid. I remember somebody telling her that I just wasn't "three-camera funny." Someone else told her I didn't look like an actor, I looked like a lawyer because of the way I dressed. I remember when I auditioned for "Antigone" or something, someone telling me that they just didn't see the neurosis in me...which I think is hysterical.
Check out Backstage's theater audition listings!