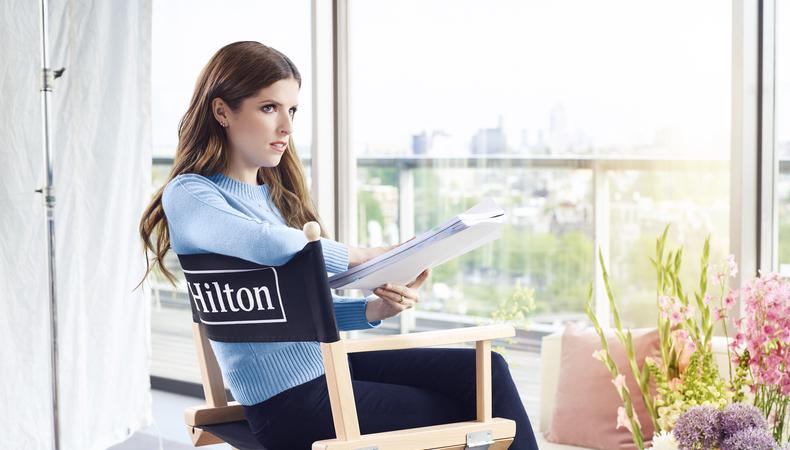 "I don't know if my advice should be, like, 'Yeah, just be a dick in the audition for your next commercial,' " says Anna Kendrick. Maybe not, but so far, it's working out. Allow her to explain.
"It's been a sort of similar trajectory to my experience on social media," Kendrick says of her burgeoning list of commercial work. "When I start working with a brand like Hilton, the first couple of hours of the day where we're shooting a commercial, I think they're a little nervous when I pitch something like, 'What if I'm kind of mean to a group of kids who are playing soccer?' Obviously, that's not normally something that a brand wants to do."
The actor has shot nearly a dozen commercials for Frito-Lay and, more recently, Hilton Hotels (the chain, ironically, factors considerably in her Oscar-nominated role in "Up in the Air"). Each spot is hardly a straight-to-camera endorsement, and rather, depends on Kendrick to deliver her trademark, well, Kendrick.
For that reason, perhaps even more than film or television acting, she argues that being authentic to your brand—and your sense of humor—is a virtue when it comes to commercials. "It's more like, 'I promise this is who I am, and I think people will get it,' " she says. "And it's so interesting that the more I'm kind of a jerk in those spots, the more people do get it, because I think everybody has a little bit of a sadistic side to them, and that's the thing they're responding to."
She clarifies once more, though: If you do go the route of the jerk, do so at your own risk. "I have no idea if that translates into commercial auditions," she says. "But I don't know, you could try it!" With Kendrick as your model for success, why not?
This story originally appeared in the May 21 issue of Backstage Magazine. Subscribe here.