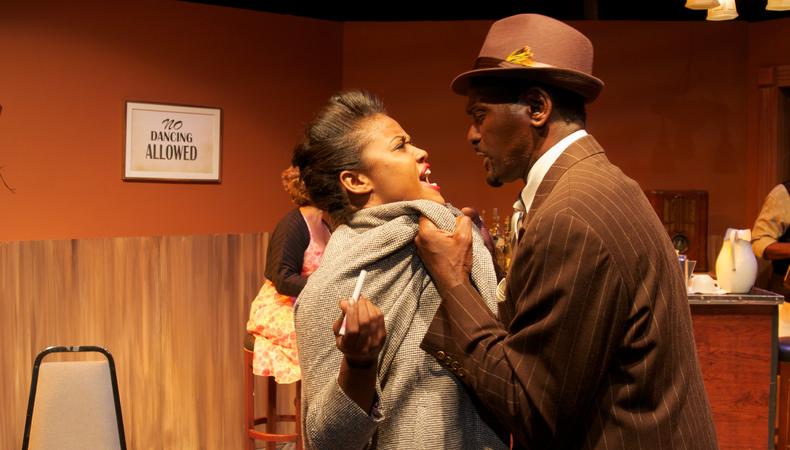 Philip Yordan's 1939 drama "Anna Lucasta" provides substantial evidence to support the notion that we're all the same beneath the skin. When Yordan wrote the play, it was about a spectacularly dysfunctional Polish family, but he was unable to find a producer. So in 1944 he gave the production rights to the American Negro Theatre Company, which reconceived it as a domestic drama about a black family. The show racked up a spectacular run of 975 performances on Broadway. Its success lead to a 1949 film version, but Hollywood wasn't ready for a drama with an all-black cast, so Yordan, who produced, reverted to the original script, with Paulette Goddard as Anna and a screenplay by Yordan and Arthur Laurents. A 1958 film adaptation, produced and written by Yordan, starred Eartha Kitt and Sammy Davis Jr. and documented the all-black revision.
Anna (Ashlee Olivia) is the only daughter of puritanical Joe Lucasta (Robert Clements). When she's caught in a sexually compromising situation, Joe is enraged and throws her out of the house, driving her to a shady career as a prostitute. An old friend of Joe's decides to send his son Rudolf (Dwain A. Perry) to visit the family and look for a wife, supplied with $800 to finance his search. Anna's money-hungry brothers, Frank (Sammie Wayne IV) and Stanley (Kem Saunders), immediately start scheming to lay their hands on the cash. Despite Joe's protests, they decide to bring Anna home and marry her off to Rudolf to secure the money for the family.
Meanwhile, Anna is hanging out in a Brooklyn bar and longing to regain her lost respectability. She hopes to persuade her sailor boyfriend Danny (Nick Gillie) to marry her, but he's not interested. So when Joe, pressured by his sons, arrives to take Anna home, she's only too glad to go. Rudolf is immediately smitten with her, and she returns his feelings. After a whirlwind courtship, they are married, but all is still not well. The brothers are convinced that Anna is scheming to do them out of Rudolf's money, while Joe vindictively tries to sabotage the marriage, threatening to reveal Anna's shady past to Rudolf. The stage is set for a volatile finale.
Director Ben Guillory has assembled a large and mostly able cast, and Tom Meleck has provided a huge and finely detailed set. Olivia adroitly avoids melodramatic clichés by emphasizing Anna's human frailty and insecurity. Clements' Joe, however, is a perplexing performance. Joe is probably the most complex character in the play, seething with puritanical righteousness and perhaps an incestuous resentment of Anna's sexuality. Clements plays him as a near grotesque, so eccentric that we get no clue as to his real motivation. Wayne and Saunders mine the brothers' greed for comedy, but they ride their cupidity a bit too far. There's excellent support from the large cast.
Presented by the Robey Theatre Company, in association with the Latino Theater Company, at Los Angeles Theatre Center, 514 S. Spring St., L.A. Nov. 10–Dec. 9. (866) 811-4111, (213) 489-0994, www.theatermania.com, or www.thelatc.org.
Critic's Score: B