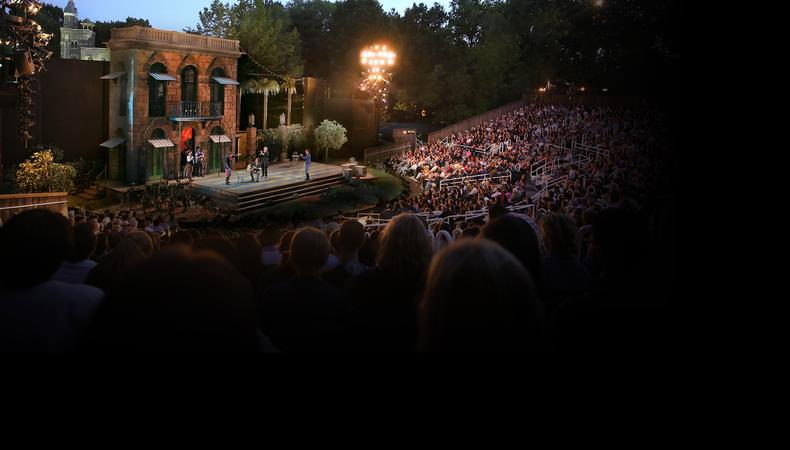 New York is the city that never sleeps, and with so many events and activities each week across all five boroughs, it can be hard to know what's actually worthwhile. Here are the events New York City actors should have on their radars this week.
Shakespeare in the Park is back with a vengeance.
Despite the wishes of a certain set of attention-grabbing protesters, the second installment of this summer's Shakespeare in the Park will kick off on July 11, this time tackling the Bard's "A Midsummer Night's Dream." The Public Theater's free presentation is certain to pack a punch with a cast lead by Tony winner Annaleigh Ashford and Tony nominee Danny Burstein. The show will run at Central Park's Delacorte Theater through Aug. 13 and will feature direction from Lear deBessonet. (Free)
Celebrate new musicals by seeing new musicals.
New York Musical Theater Festival (more commonly referred to as "NYMF") returns on July 10, bringing with it a slew of fully-staged, new musical theater works, presented all throughout the theater district. This year's event will feature a whopping 21 brand new shows from emerging theater talents, many of whom will see their work on much bigger stages in the not-distant future. "Next to Normal," after all, started right on the stages of NYMF, so you'd be wise not to sleep on these shows, ongoing through Aug. 6. (Ticket prices vary)
Take in a French film under the stars.
Summer nights in New York City are a marvel and should be treated as such. Instead of staying in after a long day and watching a movie, why not instead venture out to do the same thing? The Film Forum is here to help. Every Wednesday evening in July and August, a film highlighting a different country or culture will be screened at Socrates Sculpture Park in Long Island City. The July 12 selection will be Sweden's "Easy Money." We dare you to find a better way to spend an evening under the stars. (Free)
Spend a Saturday with Broadway, Bernadette, and barking.
Is there, literally, a better way to spend a day than with Bernadette Peters and a bunch of puppies? The answer is a resounding no, and you can do exactly that at this year's annual Broadway Barks on July 8. Held again in historic Shubert Alley, the dog and cat adoption event will be hosted by Peters and will feature some of Broadway's biggest stars from shows including "Dear Evan Hansen," "Come From Away," and more, all of whom will be touting adorable furry pals whom you can take home with you. (Free)
Celebrate Brooklyn with some soul.
Summer is also the ideal time to take in as much music as possible. On July 7, as part of the BRIC Celebrate Brooklyn! Festival, 12-time Grammy-nominated Musiq Soulchild will fill the Prospect Park Bandshell, bringing with him his unmatched affinity for soul and unique blend of Afrobeat, indie rock, and hip-hop. Best of all, the concert is entirely free. (Free)
Ready to get in on the action? Check out Backstage's casting calls to apply to tons of gigs!