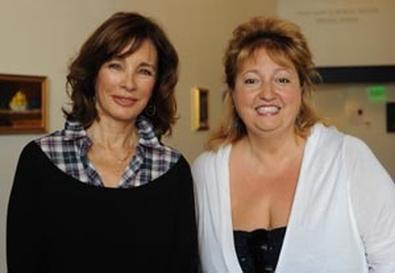 Back Stage recently sat down with actor
Anne Archer
and Los Angeles acting teacher and director Michelle Danner to talk about their first-time collaboration. Danner is directing Archer as the title character in a workshop presentation of "
Jane Fonda in the Court of Public Opinion
," written by Archer's husband, Terry Jastrow, who is co-directing. The play examines a 1988 meeting between Fonda and 26 war veterans to confront her antiwar activity during the Vietnam era. The play opened Oct. 8 at the
Edgemar Center for the Arts
in Santa Monica, where Danner is the artistic director and teaches acting.
For years, Danner taught classes for the Larry Moss Studio in L.A. Danner is also a film director and recently shot "Hello Herman," starring Norman Reedus ("True Blood").
Archer is best known for her Oscar- and Golden Globe–nominated role as Michael Douglas' wife in the 1987 thriller "Fatal Attraction." Other notable film roles have included "Patriot Games," "Short Cuts," "Clear and Present Danger," and "Rules of Engagement." Her stage work has included "The Graduate" in London's West End, a Williamstown Theatre Festival production of "Les Liaisons Dangereuses," and the Off-Broadway production of "A Coupla White Chicks Sitting Around Talking."
Back Stage: How did the two of you meet? Anne Archer:
I discovered Michelle when my husband, Terry, and I came and saw the production that's here in this theater now, "Sylvia," and it was great. So we became familiar with the theater, and then we started talking to Michelle about this play that my husband had written, about Jane Fonda, "Jane Fonda and the Court of Public Opinion." She's been working with me in between the rehearsals just on my part, because it's a huge, huge undertaking—finding the colors and the nuances. So we've been working together, and she's been coaching me.
Back Stage: Anne, you're playing someone who is still alive and well-known, but what are the other challenges for you as an actor in playing this part?Archer:
I've done a lot of research on this. I've read everything about her and the Vietnam War. And I'm a big human rights advocate. I started an organization called Artists for Human Rights. I do a lot of work in that area. So I would say the biggest challenge is it's such a huge role; it's almost like a one-woman show. I mean, she never stops talking—long monologues. One goes on for two pages. So the biggest challenge is to find colors and variations, and that's what Michelle and I have been working on so intensely—to find [the character's] different moments and her evolvement throughout the play. So she starts in one place, and she ends up somewhere else. The changes that she goes through—that's the big challenge.
Michelle Danner:
It's very interesting. I didn't know enough about all of that controversy. So it's really plunged me into that world. It's a beautiful play; it's very interesting. And even if you know about that time period, I think you're going to learn something. And if you don't know, this will enlighten people to what happened. It's this tour de force.
[Fonda] was shooting "Stanley & Iris" in Connecticut, and all the vets campaigned and rebelled, and she agreed to meet with them face-to-face. [The play depicts] this meeting that took four hours. Terry, who's the writer and is also co-directing, he sat with Jane Fonda for hours and researched it. It's a historical piece. So I was very drawn to this, aside from the fact that if you tell me to work on anything with Anne, I'd be drawn to that. But there's this subject matter that is fascinating.
Archer:
You've got this meeting with 26 vets in a meeting room of a church where she confronted them, and it was cathartic for both sides—and it's a true event. So using that as the premise, it makes an interesting play and you know there's a lot of information. It's smart and it just lends itself to a theater audience.
I didn't really ever plan to do it, and he just asked me to do a reading of it a few times. It was a natural for me. And this character is a natural for me—and [there's] my intense interest in this subject and the whole human rights aspect of the subject.
Back Stage: What do you hope audiences take from this play?Danner:
What the themes are—the journey—that the play takes us through is what we are experiencing today in the world. So it's not something that happened way back then and now it's not relevant. More than ever, it's very relevant.
Archer:
And I think the other thing is to separate fact from fiction. There have been a lot of lies that have been pushed on the Internet about the things that Jane actually did or didn't do—a lot of misinformation. So it clarifies that. It also gives the vets' point of view. So it's a very balanced play. One of the things we hope to accomplish from it is that it will be healing and it will get rid of the hatred and cause people to realize that dialogue and truth are important. Communication is very important. And the arts do that, whether it's film or theater. That's how we communicate a message that improves things. So we're hoping that it will be a very healing message.
Danner:
We've already gotten some pretty heated emails from people [telling us] that we should not do this play. So the subject matter, the issue, stirs up a lot of conflict. I think it's great. That's what theater needs to do. Theater needs to spark debate and have controversy.
Back Stage: Did Jane Fonda have any involvement with the play, and what research did your husband do?Archer:
Yes, he had conversations with her, but she said, "You know, I can't be a part of this," and he said, "I'm going to do this anyway, whether you want to or not." So she gave him names of people to contact. He went to Hanoi, and he retraced her footsteps in Hanoi, hired all the same guides that she had. He also talked to many, many vets at length—anyone who was involved in the issue at that time.
The meeting took place in 1988, but his research had to go back. What is it that the vets are so angry about? So that takes you back to the Vietnam War and all of her antiwar activity and her going to Hanoi and meeting with the POWs. All the things that happened. That is what's dealt with in the play.

Back Stage: Anne, what research did you do for this part?Archer:
I've done all the same research he's done. I read all the books. I've looked at all the footage. He brought back footage from Hanoi that no one's ever seen, that you're going to see in the play. It's multimedia. It's very much like the concept of "Frost/Nixon." So I've read all the material that he's read. I've seen every piece of footage on her and that deals with her antiwar activity and all the interviews she's done since then where that ends up being discussed. And if you just go on the Internet, there are fantastic interviews with her early on during that period. So I've done a tremendous amount of research. I probably know her life as well as she does at this point. Not really, but at least everything she's said about herself.
Back Stage: Michelle, how did you discover you wanted to teach?
Danner:
I have known that from when I was very young. When I was 10 years old in Paris, which is where I grew up, I did a whole little seminar for kids on acting. It was in my basement, but it had windows. And I created theater games, and I made lunch for 20 little kids, from ages 5 to 7—and charged them. My parents were going, "Wow. She's very entrepreneurial." So when I was 10 I could say that I discovered that I had an affinity for teaching the world of make-believe, and then after that everything grew from there.... I started teaching in the '80s sporadically in New York City. I traveled with the Harlem Globetrotters. At the time, they had never had a woman announce the Harlem Globetrotters, and they needed somebody that spoke all the languages—and that had to be five languages—and that traveled with the Trotters. So I would get up in front of 14,000 people and say, "Welcome to the 60th edition of the fabulous Harlem Globetrotters," and I had interaction with the showmen. So I did that, and then I taught in between those tours. I came back to New York and I would teach, and I had a theater company that had opened at the time, the New York Theatre Company. So it started back then before I moved in 1990 with Larry Moss to L.A., where we opened a studio at Third Street Promenade.
Back Stage: Anne, I know both of your parents were actors, but when did you know that you wanted to follow in their footsteps?Archer:
I think also when I was a very young child, I used to put on shows all the time—hat-and-cane kind of shows, dance routines, and singing—and we would rehearse for weeks, my girlfriend and I, for these shows. We took it very seriously. I was surrounded by theater actors, actually, because my mother and father had quite a history in the theater. So I just always knew that's probably what I would do. It seemed like the logical thing.
Back Stage: Did you study formally?Archer:
I majored in theater arts in college and then, yeah, I did. I studied with a series of different people—for a long, long time with Milton Katselas, most of the years in a master class, and it was a scene-study class. So the professionalism of the scene work that was presented was on a very high level. And so it gave you an opportunity to deliver a really great product and to come through—to put your whole heart and soul in it and really dedicate yourself. You know, I always say musicians, they can do it on their own. They can practice their violin on their own. A painter can paint by himself. A writer can write by himself. But an actor needs a group, and the hardest thing about expanding your ability and your craft is to have a group to do it with that is of a caliber where you can grow even more. Actors don't work all the time, and films are too broken up to give you that experience. It happens in the theater, but how much theater do you get to do? So the nice thing about a really great scene-study class is you get to play roles that you know no one would ever cast you for but it stretches you.
Danner:
What really shaped me is script analysis with Stella [Adler]. That is really where I come from and my background and my foundation. She taught on 55th Street and Lexington Avenue, and you walked in and she sat on her throne, and she'd start to break down Ibsen and Chekhov and Strindberg and Tennessee Williams. She just really knew how to break it down in such an incredibly concise, deep, complex way that was so helpful. I just shot a movie, and soon as I wrapped the movie, I've been wanting to teach a script-analysis class. I've never taught it before. I've always included it as part of scene study. So I just started to do it a few months. And so we alternate between a play and a screenplay. So I did "Golden Boy." I did "The Rose Tattoo." I did "The House of Yes." We did "The Savages," which I thought was very interesting. I did "Tootsie." I did "When Harry Met Sally." We did "August: Osage County." It's been the most fascinating thing to sit down with a whole group of people and go deep. And really I have to say that I would probably never have taught this class had it not been for Stella. She had this whole thing about how important it was to pass it down.
Back Stage: Anne, when did you last do theater in L.A.?Archer:
Well, the Mark Taper [production of "The Poison Tree"] was about [11] years ago. After that I did "The Graduate" in London in the West End. So it's been a while since I've been on the stage. You know, I've been on the stage in master classes and things like that working, but it's been a while. It feels very natural, especially because this is a very small space. It's black box. It's so perfect.
Danner:
There's nothing like intimate theater.
Archer:
It feels great. You know, I love acting. Listen, this is why we do this. We just love acting. If I get a chance to act, I will act. And then I'm usually the happiest person around.
"Jane Fonda in the Court of Public Opinion" continues at the Edgemar Center for the Arts, 2437 Main St., Santa Monica, through Oct. 30. Fri.-Sat., 8 p.m.; Sun., 2 & 7 p.m. (310) 392-4327. www.edgemar.org/.