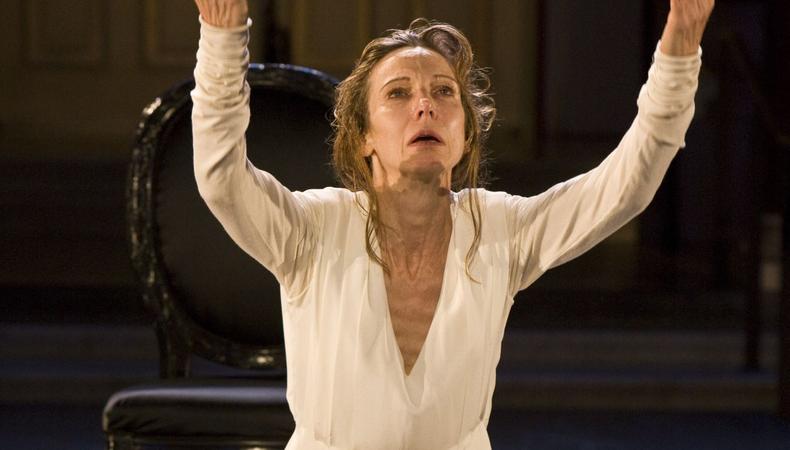 Despite being written by the most modern of the Greek tragedians, Euripides' "The Trojan Women" might be the hardest of the classic tragedies to stage. Set immediately after the Trojan War, with the men of Troy slaughtered and the women awaiting their deportation as Greek slaves, the play depicts the last lamentations of the surviving royal family: Queen Hecuba (Ellen Lauren), her daughters Kassandra (Akiko Aizawa) and Andromache (Makela Spielman), and her unrepentant daughter-in-law Helen (Katherine Crockett). With everything in their world decided, these formerly powerful women stomp around the stage for nearly two hours announcing that there's literally nothing they can do. Without a strong directorial hand, "The Trojan Women" turns wretchedness into boredom. Despite its leading lady's triumphant performance, director Anne Bogart's "Trojan Women (After Euripides)," a SITI Company production, falls into this trap.
It's not surprising. What has made SITI such an electrifying company since its 1992 founding is its trust in the banality of open spaces. Trained in Bogart's Viewpoints method, which emphasizes full-body listening to the geometry of the stage and the energy of the other performers, SITI's actors breathe into their parts with a signature lack of adornment and heightened contentment. They're rarely in a rush. This style works wonders when pushed against, say, Chuck Mee's crowded pop-culture collages ("bobrauschenbergamerica") or Shakespeare's riotously plot-driven machines ("Radio Macbeth"). These plays provide the car; SITI provides the open road. It has little to give to a play like "The Trojan Woman," which offers a first-rate exterior but needs someone else to slip in the motor.
Thus, what should be gut-wrenching feels self-important and emotionally artificial, as the actors proclaim every line to the heavens. They convey despair but not desperation. Jocelyn Clarke's adaptation aims to simplify Euripides' language but strips it of poetry and thematic texture, leaving only bare emotions cast in broad strokes. Clarke also gives the shortened choral odes to Hecuba's vaguely anguished eunuch servant, and Barney O'Hanlon whizzes through them like set-change music. With the tone so unfocused, Aizawa's mad scenes earn awkward, misplaced laughter, and Crockett's gorgeous Helena appears stiff when she should be seductive.
The design elements fare better. Christian Frederickson's music offers a broader emotional range than the onstage action, and Brian H Scott's dynamic lighting conveys the passage of time. The set is a circle of black dirt in which the women squirm, and the slow creeping of the muck up the hems of Melissa Trn's elegant white gowns (except Helen's, a delicious touch) tells a clearer story than the airborne dialogue.
If there's a reason to see this production, it's Lauren's Hecuba. Her queen is gritty and noble, burying her fear in her dignity, leading her charges to an unthinkable destiny. Pity would insult her. Never has the determination to "get up off the floor," her first and last lines, felt so intimidating. As Hecuba walks forward in the play's final moments, inflamed by her disgrace and leaving Troy behind, it's as though Lauren too leaves this Trojan woman in the dust.
Presented by Brooklyn Academy of Music at the BAM Harvey Theater, 651 Fulton St., Brooklyn, N.Y. Nov. 28–Dec. 2. (718) 636-4100 or www.bam.org.
Critic's Score: C+