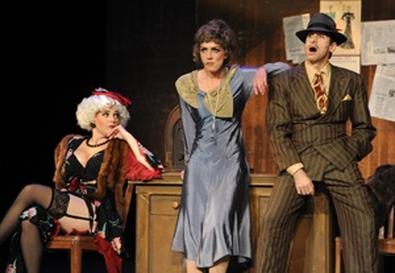 Amidst nationwide economic woes, "Annie," the perennially popular 1977 musical adaptation of Harold Gray's long-running comic strip "Little Orphan Annie," set during the Depression, strikes a resonant chord. The political jabs in the skid-row number "Hooverville" have never seemed more trenchant. Yet the most enduring quality of this Tony-winning gem remains the seamless way it combines genuine heart with the frothy traditions of an expertly crafted Broadway confection. Under Steven Glaudini's silky-smooth direction, abundant with fresh touches, this heartwarming classic shines as brightly as Times Square on Christmas Eve.
Twelve-year-old Melody Hollis, as the plucky title orphan, wins us over from the outset with her powerful delivery of the rueful ballad "Maybe." This pint-sized belter truthfully conveys an astonishing range of emotions. Her pairing with the superb Jeff Austin as bald-headed billionaire Oliver Warbucks, whose blustery manner can't mask the sweetheart inside, evokes great warmth, laughter, and an occasional tear. Andrea McArdle, who was nominated for a Tony for playing Annie in the original Broadway production, now tackles the role of hard-drinking, child-despising orphanage head Miss Hannigan. In great voice and displaying her well-honed comedic chops, McArdle plays the harridan with less of a cartoon-flavored approach than is customary, making the role her own.
The supporting work is first-rate. Nimble and boundlessly energetic Michael Paternostro parlays the character of slimy grifter Rooster into an unabashed tour de force. Likewise sublime is Bets Malone as Rooster's bubble-headed mate, Lily St. Regis. The comic showstopper "Easy Street"—featuring McArdle, Paternostro, and Malone and smashingly choreographed by Roger Castellano—is among the production's high points. Additional fine turns are offered by Shannon Warne as Warbucks' devoted assistant Grace Farrell, Mark Capri as a drolly amusing President Franklin D. Roosevelt, Todd Nielsen as no-nonsense butler Drake, Damon Kirsche as high-strung radio host Bert Healey, the irresistible chorus line of moppet hoofers (Jenny Rosen, Paige Befeler, Alexa Freeman, Maddison Milledge, Danielle Soibelman, and Grace Kaufman), and the entire ensemble.
The handsome rented sets and costumes look sensational under Jean-Yves Tessier's glittery lighting. The evergreen Charles Strouse–Martin Charnin score sounds marvelous under the adept baton of music director Daniel Thomas.
Presented by Musical Theatre West at the Carpenter Performing Arts Center, 6200 E. Atherton St., Long Beach. Oct. 30–Nov. 14. Thu.–Fri., 8 p.m.; Sat., 2 and 8 p.m.; Sun., 2 p.m. (Also Sun., Nov. 7, at 7 p.m.) (562) 856-1999, ext. 4, or www.musical.org.