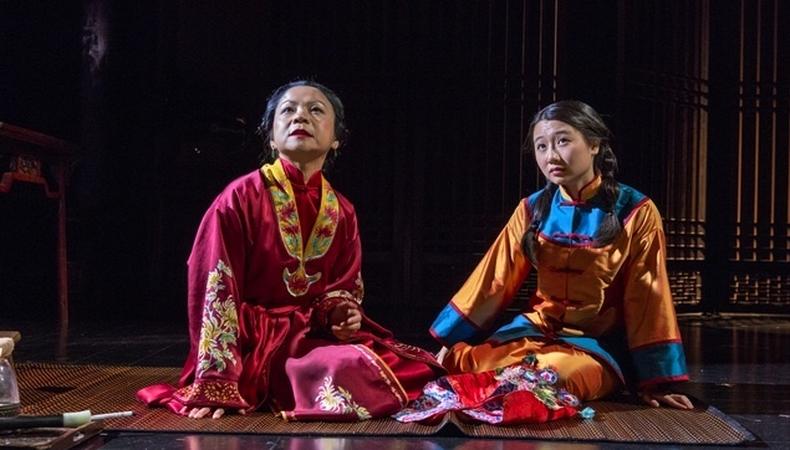 Young actor Annie Q was nervous when she made the decision to leave college and pursue acting full-time.
"I talked to my parents—I think that was the scariest part, because my parents are these very traditional Asian parents that are like, medical school!'" she said. "In their mind, there are three occupations an Asian child can have: lawyer, doctor, and accountant."
But now, with a starring role in Signature Theatre Company's Off-Broadway revival of David Henry Hwang's "Golden Child," as well as some TV and film roles under her belt, Annie Q is confident that she made the right choice.
Was the real-life cast anything like the family you portrayed in "Golden Child"?
Annie Q: They're just the nicest, most down-to-earth people. There's no drama backstage. We just all love each other—I knew it from the moment that we had our first day of rehearsal. We had a meet-and-greet, and then we had a lunch break, and we had this big, Asian, family-style dinner, and it was kind of amazing. We just had that family vibe from the beginning.
Julyana Soelistyo (Eng Siu-Yong, first wife) actually originated your role in 1996. Did she help you? Was there pressure?
Annie Q: Before I met her on the first day, I have to admit I was a little nervous about that. I found out about that in the fitting, and I was like, "Oh my gosh, is she going to like me? Is she going to like my take on this character?" And then I met her, and it was clear from the beginning that she was First Wife now. She's been so willing to help me and talk me through, but it's a very different show than it was 15 years ago.
Was the scene when your father, Eng Tieng-Bin (Greg Watanabe) unbinds your feet difficult to rehearse?
Annie Q: We worked on that for a while. Just the idea of foot binding itself is just really painful. We saw a lot of x-rays, and it's just horrifying. If you haven't seen it, don't look at it. You will have nightmares. It's really freaky 'cause the toes fall off, basically. I couldn't fathom how painful it would be to have that unwrapped after like five, six years of having your foot broken and wound up really tightly. I had talked to [director] Leigh [Silverman] and David, and they were like, "Have you ever done a slasher flick? Do you know how to do a slasher scream?" That's how painful [it should seem].
Watching the scene, I felt physically in pain.
Annie Q: That is what we were going for!
You were at NYU and you left to pursue acting full time. How did you know it was a risk that was worth taking?
Annie Q: It was something I was unsure about for a long time. I had graduated from a high school of performing arts, and I decided to go to business school so I could study the other side of the industry—the producing side. And then I booked a recurring [role] on a TBS show, "Are We There Yet?," when I was in my first semester of college, and [I was] doing other work—"Blue Bloods" and "Law and Order." I got to a point where I was balancing school and work, and I was just like, "You know something? In my heart, I really want to do this one thing and just focus on it right now."
You went to high school at LaGuardia Arts in New York City. What was that like?
Annie Q: There are all these really talented, young people. I remember just being astounded by the talent that surrounded me. All of us spent so much time working on our craft and in rehearsals. It was a really intense schedule. Junior and senior year, we had our academic classes in the morning until like 12, and then we would go to drama and we would literally be there in school until like 10, 11 o'clock.
It definitely prepares you for the actual business. Coming out, and having rehearsal for ["Golden Child"], everyone was like "Why do you have so much energy all the time?" I was like, "You should have been at my school. You would know why."
So what's next for you?
Annie Q: There are a lot of things I'm still figuring out. I want to keep taking class, and a lot of people like Jennifer Lim (Eng Luan, second wife) have been talking to me, and she's like, "Why didn't you go to conservatory? Or Julliard? Yale?" I think part of me really wanted to, and part of me was like, I just wanted to know that I could work in this industry. And I felt like I had taken class already. I wanted to take the first step and work and see if I could support myself as an actor, and then do it. Conservatory would be amazing, but I wanted to have more life experience under my belt as well.