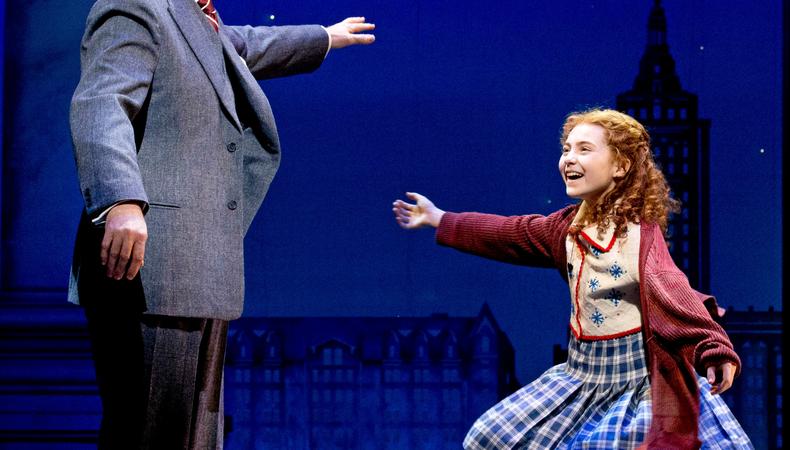 There's so much that's right about director James Lapine's joyous revival of the classic Martin Charnin–Charles Strouse–Thomas Meehan musical comedy "Annie" that it's particularly painful to have to note the one element that isn't working. Lapine has lovingly rethought this Depression-era fable for the 21st century, working with book writer Meehan on some smart script tweaks and scraping away the calcification of years of overfamiliarity to reveal the freshness, spontaneity, and heart "Annie" possessed when it debuted on Broadway in 1977. Lapine correctly focuses on the growing relationship between the titular orphan and her savior, Oliver Warbucks, which I've never seen play more touchingly than it does here. The exuberant physical production—Susan Hilferty's wonderful parade of period costumes, Donald Holder's luscious lighting, and especially David Korins' endlessly inventive pop-up comic-book sets—is a delight. Andy Blankenbuehler's fun choreography both pays homage to Peter Gennaro's iconic original work and impresses with new ideas, including a sensational staging of "NYC." So what's the hitch? Katie Finneran's Miss Hannigan just isn't funny.
The veteran comic actor starts far too dark. This is a Hannigan we can easily imagine physically abusing her charges, lacking the inner insecurity, inappropriate vanity, and general haplessness that allow us to laugh at her. Finneran pushes too hard in "Little Girls" and is not aided by the surreal addition of the orphans to the number. Her severity diminishes the comedy in Hannigan's conniving scenes with her brother, Rooster, and his dim moll, Lily St. Regis, though Clarke Thorell and J. Elaine Marcos know exactly what they should be doing and execute it well.
The rest of the show plays like gangbusters. Lilla Crawford is an enchanting, clarion-voiced Annie, the best I've seen (and I've seen a lot). An excellent actor, Crawford is especially good with the girl's unshakable optimism, making it genuine and unforced, and she shares a winning chemistry with Anthony Warlow, as Warbucks. The Australian star is pretty perfect charting the billionaire's journey from crusty disinterest to deep paternal feeling, crowning his performance with a stunning and gorgeously sung rendition of "Something Was Missing." Brynn O'Malley's poised Grace Farrell is just right in her understated steeliness and carefully hidden adoration of her boss. Madi Rae DiPietro, Georgi James, Junah Jang, Tyrah Skey Odoms, Taylor Richardson, and Emily Rosenfeld are a delectable set of orphans, with the diminutive Rosenfeld's Molly stealing scenes, as the character usually does. The large supporting cast is uniformly fine.
Lapine and Meehan have subdued the dated anything-for-a-laugh vaudevillian sensibility that ran through the original (example: Warbucks no longer buys the Mona Lisa only to decide he doesn't like it) in favor of accentuating relationships. That may partially explain Finneran's misfire. But the problem is soluble, and Lapine should get on it. As original director and lyricist Charnin wrote in his 1977 memoir about the show's creation: "If you can make them laugh, you can run a year. If you can make them cry, you can run two years. If you can make them laugh and cry, you can run forever."
Presented by Arielle Tepper Madover, Roger Horchow, Sally Horchow, Roger Berlind, Roy Furman, Debbie Bisno, Stacey Mindich, James M. Nederlander, Jane Bergère/Daryl Roth, and Eva Price/Christina Papagjika at the Palace Theatre, 1564 Broadway, NYC. Opened Nov. 8 for an open run. (800) 982-2787 or www.ticketmaster.com. Casting by Telsey + Company/Patrick Goodwin.
Critic's Score: A-