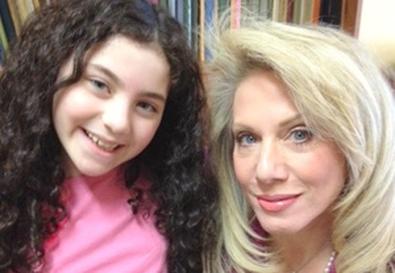 When it comes to understanding the fundamentals of voice lessons for children, who better to ask than the voice teacher of Broadway's new "It Girl"? Lilla Crawford, star of the upcoming production of "Annie," works with Badiene Magaziner. Crawford, who made her Broadway debut as Debbie in the closing cast of "Billy Elliot," beat out 5000 girls to win the lead role after a highly publicized nationwide casting.

An accomplished singer with credits in opera and on Broadway, Magaziner holds a Master's Degree of Music in Voice from The Juilliard School of Music and has been a voice teacher for more than ten years. Her students have appeared in a long list of Broadway shows including "Billy Elliot," "Mary Poppins," "Rent" and "Miss Saigon" as well as on "American Idol." She also coached "America's Got Talent's" first $1,000,000 winner."

Magaziner, who teaches speech level singing, notes a slight shift away from beginning formal lessons after puberty. With so many more opportunities for children to perform professionally, Magaziner has seen kids as young as 9 and 10 who already have vocal damage including polyps. "I now take students as young as 5 to prevent vocal damage and health issues," explains Magaziner.

Still, Magaziner cautions parents to make sure they have a teacher that knows what they are doing if a child is going to begin lessons before puberty. "Some teachers may be tempted to let students bring chest voice much too high and that can be extremely dangerous," warns Magaziner. "You cannot just pull chest and hope for the best. It has to be the proper chest."

Magaziner believes that protecting Crawford's voice from damage throughout her demanding schedule as the lead in "Annie" will be a big challenge. "Avoiding damage is about protecting the voice in any setting," she says. "Using proper technique with the understanding that the minute you start to get vocal or physical fatigue in any way, stop. Don't sing. If you are sick, don't sing on sick cords. Never scream."

Magaziner shows her students pictures of what vocal chords look like in chest voice, head voice and whistle. She then gives them specific exercises to build each type of voice. "I show them how to go through those bridges seamlessly so that it sounds like it is just one voice," she says.

Magazine recommends students to take weekly lessons, but recognizes not everybody can afford it. "Every other week would be the minimum as muscle memory doesn't last," she adds. "It would be like trying to play tennis and saying I'll just go for a lesson once a month."

For international students and students with scheduling conflicts, Magaziner uses Skype for the appointments. Karaoke tracks for songs can be found on YouTube or on iTunes. Most students now record lessons on their phone, digital recording device or a CD in order to practice. Some teachers even post vocal exercises on a private YouTube account for their students.

Magaziner recommends that parents spend time "shopping" for a voice teacher. "You wouldn't marry the first person you dated," she explains. Although cost is a factor, it should not be the overriding factor. "I've had students from teachers that charge $250 that can't sing and have no technique," cautions Magaziner. "I would rather have somebody come to me for half and hour every two weeks and learn the proper technique, than go to somebody that is going to teach them the wrong technique but is less expensive."

Magaziner's "Guidelines For Choosing A Voice Teacher" are available on her website. Go to www.voice-teacher.com and click on the "Articles" link.