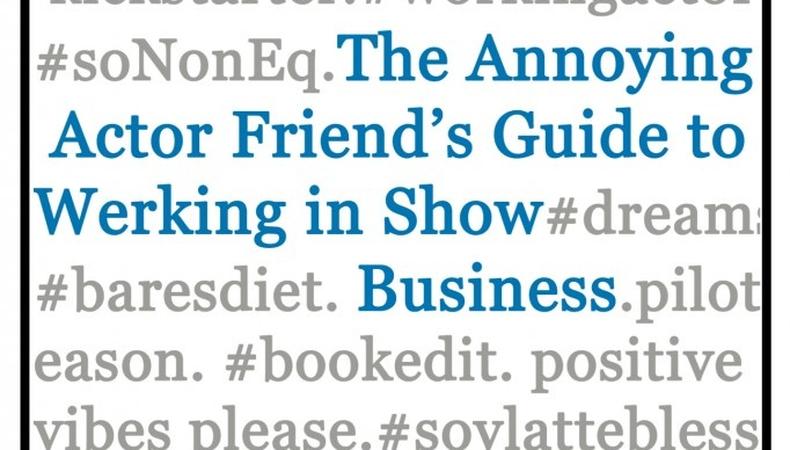 It seems that we know so little about Annoying Actor Friend (or @Actor_Friend on Twitter), the witty voice that exposed so many truths about the acting business, 140 characters at a time.
AAF's account was created July 2012 in response to actors "over sharing" on social media. Since then, AAF has tweeted over 1,000 jokes and comments about the business, including, "a callback a day keeps - your parents' incessant questioning about what happened to all the money they spent on your education - away."
Now Annoying Actor Friend has over 11,000 followers, an established blog, and a book titled, "#SOBLESSED: the Annoying Actor Friend's Guide to Werking in Show Business," which shot to the Amazon #1 Best Seller in "Theater" and "Parodies" on its first day of sale.
We talked to AAF about their recently acquired fame, their feelings about the business, "#SOBLESSED," and of course, their fascination with the now-canceled NBC show, "Smash."
Did you anticipate this alias, your Twitter, and your book getting this popular?
Absolutely not! At first it was really just different versions of the same joke. I thought it would appeal to some people for a week or two and maybe get a few followers. In fact, I almost deleted it three days in. When I reached 1,000 followers, I decided I didn't want to let go of the attention—which is basically exactly the behavior that I was satirizing. I go into depth about this subject as well as how and why I progressed the account in my afterword of the book. I'm really shocked it's been embraced the way it has. I've tweeted some really bad jokes. I'm so happy people have stuck with me through them all.
So, without compromising your anonymity, what can you tell us about your background?
I live in New York City. I majored in musical theater in college, but I did not go to Michigan. I am one of the few New York actors who was not on "Smash." I am not Audra McDonald.
You created the Twitter account in response to actor friends and industry people who "over share" on social media platforms. What are some of the most ridiculous or memorable over-shares you've seen?
Quite a few over-shares contributed to the creation of Annoying Actor Friend, but to this day, the one that really inspired me to create the account, and is actually quoted in my book's introduction, is still my favorite.
The status was artistic in its complete unawareness. It began with a "when it rains it pours," tossed in a shoutout to the awesomeness of "the universe," and ended with something about feeling guilty about their friends being out of work. It was all the clichés wrapped into one. It mentioned multiple job offers, remained ambiguous about what they were, and tried to project a humble image by suggesting disappointment in having to choose between projects when so many friends were unemployed. I do not know this person. I am sure they are very nice and did not intend their status to be interpreted the way I did. That is why I talk so much about social media awareness and unawareness in my book.
What are some of the biggest mistakes actors can make on social media?
Not knowing their audience or how to communicate to them. Social media is a lot about marketing and publicity. It's important to try and figure out what it is about you that appeals to your friends, and highlight that part online. There really is a fine line between filling people in on what you are doing and blatant self-indulgence. I genuinely want to know what my friends are up to, and the best people present their news in a way that is casual, unassuming, and not repetitive.
When did you decide to write your book, "#SOBLESSED?"
Shortly after I started recapping Season 2 of "Smash." Somewhere around the fourth episode, someone asked me what I would do if "Smash" got cancelled, and that's when I thought about spinning off into a book. What I enjoyed most about recapping "Smash" had nothing to do with the show and more with playfully making fun of aspects of our business. A book would give me the opportunity to open up and talk about whatever I wanted to without having to focus on the events provided by "Smash." I could talk about anything from BFA programs to national tours to unemployment.
At first I was going to title it "How to Succeed in Show Business Without Really Being a Douche," and follow a narrative like the original "How to Succeed in Business without Really Trying" book by Shepherd Mead that inspired the musical of the same name. There was going to be an actual named character, like J. Pierpont Finch, that the reader followed as he or she navigated the business. When "Smash" ended in May, I had developed a specific voice and style for Annoying Actor Friend and that sort of dictated a different approach when I finally sat down to write the book in June. I had written over 20 blogs dedicated to "Smash," and they were my training for how Annoying Actor Friend would speak in a book. I really have "Smash" to thank for a lot of how "#SOBLESSED" turned out. I am not sure when I re-titled it "#SOBLESSED;" I think the Twitter account's theme sort of demanded it.
Why did you use "werk" instead of "work" in your title?
I started using "werk" in my tweets and writing because it's a stock word within the vernacular of the community. I used to spell it "werq" because I didn't know any better. Someone schooled me early on. "'Werk' is the art of making shit happen in one's career and kicking ass while doing it. Werking is fun. It encompasses performance, networking, and all-around awesomeness. 'Work' is the physical and mental effort performed to achieve a goal. Working is hard. Sometimes shit takes work and not #werk. There is a difference between the two, and their individual usage in this book is deliberate." [From "#SOBLESSED"]
While succeeding in this business takes actual "work," the true Annoying Actor Friend will only let on that it takes "werk"—that success is a string of happy accidents, things happening for a reason, and the universe responding to positive vibes. Using "werk" makes the voice in the book a little more playful when discussing the difficult parts of the business. I used it to skew the darker parts of the book from sounding bitter and jaded.
What kind of criticism—good or bad—have you received since it was released?
The feedback that has been directed at me has been positive. Nobody has yelled at me yet! I think the anonymity helps. If my real name were attached to a book claiming to be the definitive depiction of the New York actor, then everyone would be able to say, "Well, what the hell does he/she know?" The consensus seems to be that since it is enveloped in a satirical voice, it speaks more universally and either reflects the reader's opinion, or at least that of someone they know. For example, someone might disagree that an actor can get pigeonholed as a "swing," but I'll bet they have a friend who agrees with that idea.
My goal with "#SOBLESSED" was to give the reader a representation of what the industry is like for a lot of actors in this generation. My own experiences as well as that of the people around me inspired it, and there was a chance it wouldn't relate to people outside my social circle. What has excited me, as far as feedback, is that actors at all different points in their career (college, pounding the pavement, on Broadway) seem to be relating to it. It turns out, that as unique as each actor is, we all seem to be living the same experiences in some form or fashion.
Talk to me about your feelings on "Smash." What made you start writing about it?
I really only intended to write one drinking game for people to play with the Season 2 premiere of "Smash." The rules applied to how actors reacted to the episode as much as what was happening on screen. It was a way for me to poke fun at actors who hated "Smash" and were relentless about pointing out every single inaccuracy. The recaps followed because some people liked the drinking game.
I wrote about "Smash" because it was a national television show that anyone who enjoyed theater could sit down and watch. I could talk about the business elements covered in the show, and how they were often just as ridiculous, if not more so, in real life.
I was fortunate enough to see one of the "Hit List" shows [that originated on "Smash"] at 54 Below this month. When I sat down and watched that fully-realized reading of what was once a fictitious musical, the entire "Smash" existence and purpose came into perspective for me in a way it hadn't before. Whether you loved it or hated it, "Smash" was a special moment for Broadway, and we may never see another one like it in our lifetime.
What do you love about Broadway/the business?
You know that moment right when you enter Times Square? You're angry. You're annoyed. You think a Chicago Flyer Girl or Captain Jack Sparrow is going to harass you. You can't wait to just get through it. But then you look up, you see the lights, everything falls silent, and for a fleeting moment, you're 15 again—or 6, or however old you were when you first knew what you needed to do with your life. And everything inside you seems to explode and you're filled with that unfamiliar magic. And you smile just long enough, before a group of spatially unaware tourists take you down. That is what I love about Broadway. That is what I love about this business. The moment when you're reminded why you're here. My biggest mistake as an actor is trying to be what I think they want.
Rebecca Strassberg is the digital editor of Backstage. Follow her on Twitter @strassbooger.