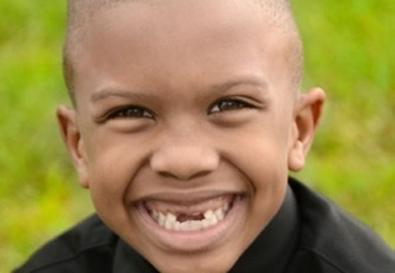 "I think this was the first job that I ever got to work with puppets," posits Baltimore native
Anthony Michael Hobbs
, "and it was awesome. You get to meet the people who play the puppets, and you can see how the puppets talk and play and all kinds of stuff." About to celebrate his seventh birthday, Hobbs can easily be forgiven for forgetting a credit or two, given his steady streak of back-to-back gigs, one of the most recent being "
SkWids
," an educational web series. Fittingly, Hobbs' casting was online from start to finish, beginning with a backstage.com casting alert promptly answered by "momager" Kerri Moseley-Hobbs.
"Anthony's mom submitted for him, but they couldn't make it up [to New York] for the casting," says "SkWids" director-producer Matthew Zuckerman. "She submitted a reading of his through a YouTube post, so we got to see Anthony that way." Impressed by the digital submission, the "SkWids" team hired Hobbs to play one of the main character's learning companions. Over the course of several short videos, the friends cover a host of subjects with the help of experts and original puppet creations by Brooklyn's Geppetto Studios.
However, the transition from traditional textbooks to electronic learning platforms is relatively new, therefore budgets for such projects are often tight, and "SkWids" was no exception. "There wasn't much time for rehearsals; it was more learn-on-the-fly for everyone," says Zuckerman. Fortunately, he didn't hire just any kid; he hired Anthony Michael Hobbs.
"I don't find it hard to memorize scripts. I'm good at that kind of thing," the young performer says with cool, considered thought. "There was this long part I had to memorize, and I did good."
Running lines with Mom in between watching episodes of his favorite cartoon show, "Adventure Time," resulted in brisk takes and an admirable professionalism that earned Hobbs high marks from his director. "It takes a special kind of young person to handle this type of project. The days were pretty long, and it's a very hard skill to pay attention, stay engaged, and make it believable that you're being educated and learning," says Zuckerman. "We'd absolutely work with Anthony on future projects."
As for Hobbs, puppets may be a thing of the present, but action movies are the future. "I want to do stunts," Hobbs says with gusto, "like jumping off of really tall buildings!" Having already leaped head-first into the acting game, it seems only the next logical step for the brave lad.
The new "SkWids" series launches in May at SkWids.com. Hobbs can also be seen in a short film playing on very tall screens as part of the "
How to Train Your Dragon Arena Spectacular
," which tours Australia and New Zealand through April. He is represented by Wilhelmina Philadelphia and Diesel Management and can be contacted at Anthony-Michael.com or via the backstage.com Talent Database.

Has Back Stage helped you get cast in the past year? We'd love to tell your story. Be in the weekly column by emailing casting@backstage.com for New York or bswcasting@backstage.com for Los Angeles with "I Got the Part" in the subject line.