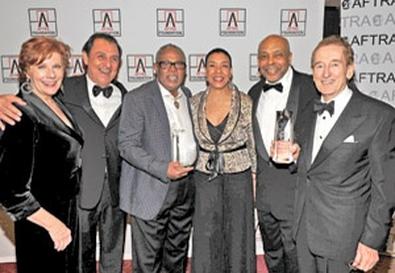 The American Federation of Television and Radio Artists will hold its monthly national board meeting Feb. 27. There, a subcommittee created last month is expected to recommend whether AFTRA should re-enter joint bargaining with the Screen Actors Guild on its prime-time television contract. AFTRA broke away from joint bargaining in 2008, when Alan Rosenberg, a vocal critic of AFTRA, was president of SAG. But since then, changes in SAG's leadership have reopened the door to closer cooperation between the two unions. Ken Howard, who was elected SAG president last year on a platform that promoted the eventual merger of SAG and AFTRA, told Back Stage in January that a return to joint bargaining "will be a huge step toward mending a lot of fences."
Back Stage caught up with AFTRA leaders last weekend as they gathered in New York for the union's Media and Entertainment Excellence Awards. What they shared could give Howard and other proponents of stronger ties between performers' unions reason to be optimistic. "I got involved in union politics originally because I wanted a merger to happen," AFTRA president Roberta Reardon said. "I still believe in merger."
But Reardon, whose union represents not just actors but also recording artists, newscasters, disc jockeys, and performers of multiple categories, discussed the possibility of merger—a goal that leaders of both unions have chased and failed to capture several times in their shared history, most recently in 2003—from a different perspective than that of her SAG counterpart. Howard, though a Broadway leading man early in his career, is now a longtime West Coaster who makes his living in television and film. Reardon is a New York actor, and she has a New York view of the landscape.
"One of the reasons I believed in [merger] was that I understood that if you have one union negotiating for all areas of entertainment, you have more leverage," she said. "But I also understood it as a New York actor, and this is where it was different from being an L.A. actor: In New York, if you made a living as an actor, then you necessarily worked in all three unions."
That third union is, of course, Actors' Equity Association, which represents theater actors and stage managers. While merger between AFTRA and SAG has been a hot-button issue for decades, Reardon's comments raise an interesting hypothetical: Is it possible that all performers, on stage, on screen, and in other media, could someday be covered under one superunion? And is such an institution desirable?
Sibling Rivalry
According to Jonathan Handel, an entertainment and digital-law attorney at the Los Angeles firm TroyGould and an adjunct professor at the UCLA School of Law, divisions between the unions date back to their early years. In contemporary times, those divisions are still strong. Handel sees "some strong factors working against a three-way merger," among them a culture at Equity that places a high value on live performance. Handel offered as an example a rule that bars Equity performances from being recorded in their entirety. "I think these are rules that are caught in the 20th century and don't properly reflect the rise of the Internet," he said.
But Handel would not rule out the possibility that a megamerger could be achieved. "It's conceivable," he added. "It's also conceivable that AFTRA's strategic alliance with Equity could lead first to a merger between AFTRA and Equity."
At its January board of directors meeting, AFTRA created a committee devoted to exploring possible cooperation with Equity. (The move "could be a very early step toward merger," Handel wrote at the time on The Huffington Post.)
Kim Roberts Hedgpeth, AFTRA's executive director, said the idea of a performers' superunion does get discussed in certain circles, but added, "I'm not suggesting that people actually think about it a lot, but given where we are in the 21st century, it would probably have to be talked about in stages." She acknowledged, however, that evolving technologies are contributing to greater overlap between the unions and that addressing these overlaps would benefit everyone.
"We are looking to find ways of cooperating and collaborating with Actors' Equity, because we have a lot of commonalities, particularly outside of New York and L.A.," Hedgpeth said. "There is a community of theater actors who cross over with the community of commercial and nonbroadcast industrial actors. So I think there are a lot of areas for us to talk about cooperation."
A Shrinking World
To illustrate the injury that division between the unions does to members carrying multiple cards, Reardon pointed to a friend who spent nearly half of last year doing live theater in Albany, N.Y., the other half in New York City doing voiceover for an animated series as well as radio and television commercial work. The actor's earnings were "divided…into three different pots," she said, making it difficult to qualify for insurance.
Reardon acknowledged that cultural differences may have thus far prevented the unions from making the practical decision to come together for the benefit of their members. But time and technology may be wearing away at the barriers, she said. In the past "there was a lot of 'You don't do what I do. You do something different.' Well, when we were connected by trains and telephones and Western Union, that made some sense. But now that we've blown way past television and telephones, we really all work in the same world, and I think more and more performers will begin to understand—as we should, as we shift from platform to platform—that very few people do one thing now. And the more we go back and forth, the more we know each other, the more we know we need each other."