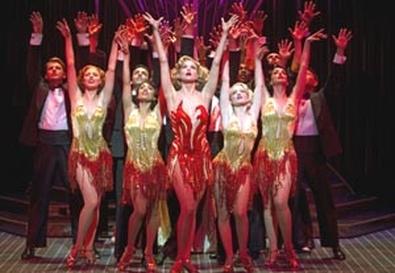 What can you say about perfection? Roundabout Theatre Company's revival of "Anything Goes" is such a giddy, goofy, giggly experience, it's almost impossible to describe. But I'll try. Imagine eating all the chocolates you want without getting full, or watching all your favorite Hollywood musicals on TCM without suffering from camp overload.

Kathleen Marshall's sleek staging and joyous choreography recall the best of Hermes Pan and Busby Berkeley, with an expert chorus tapping, shimmying, and buck-and-winging it for all they're worth. When your eyes aren't being dazzled by those glorious dancers, your ears are filled with the riches of the classic Cole Porter score. The heaven-sent cast and the original orchestrations of Michael Gibson, with additional ones by Bill Elliott, make the familiar clever lyrics and magnificent melodies as fresh as the day Porter penned them.

The silly story revolves around Billy Crocker, a young stockbroker stowing away on a luxury liner to woo Hope Harcourt, a debutante engaged to marry a stuffy titled Englishman. A fun-loving nightclub entertainer, also in love with the young hero, and a comic gangster disguised as a minister are thrown in for extra laughs. But the flimsiness of the plot hardly matters. The original 1934 book, by P.G. Wodehouse, Guy Bolton, Howard Lindsay, and Russel Crouse, was streamlined for the 1987 Lincoln Center production by Timothy Crouse, Russel's son, and John Weidman to get rid of the more dated gags, advance to the Porter gems more quickly, and interpolate additional evergreens from the composer's canon. The 1987 script is employed here, and Marshall keeps the spoken-word action moving at such a fast and funny clip, with the aide of Derek McLane's fluid shipboard set, that we're never bored in between the musical moments.

But let's get back to that cast. As that scintillating showgirl Reno Sweeney, Sutton Foster ascends another level into the Broadway stratosphere, evoking dozens of past musical comedy stars yet imparting her own unique charm and pizzazz. She combines the sass of Ginger Rogers, the elegance of Eleanor Powell, the sensuousness of Cyd Charisse, and the pipes of Debbie Reynolds. She's never danced better and has never been in better voice, investing "I Get a Kick Out of You" with bittersweet longing and "You're the Top" with perky playfulness. Her Reno is one tough yet adorable cookie.

Colin Donnell, a dead ringer for Jon Hamm of "Mad Men," makes an attractive, full-voiced Billy. He's a boyish playmate for Foster and evokes the easy grace of Astaire and Kelly in his dancing duets with the sweet Laura Osnes as Hope. Joel Grey brings every minute of his vast experience to bear in a delightfully impish interpretation of Moonface Martin, the incognito gunman. His number with Foster, "Friendship," becomes a sly vaudeville turn involving two hams battling for the spotlight, and his solo "Be Like the Bluebird" is almost Chaplinesque in its comic-sad depiction of making the best of a bad situation. As Lord Evelyn Oakleigh, Hope's clueless intended, Adam Godley is a cartoon of British boobery come to life, all ears, elbows, and long legs. He wisely underplays Oakleigh's mangling of American slang and turns "The Gypsy in Me" into a riotous celebration of a gentleman getting in touch with his animalistic side. John McMartin wrings every drop of sardonic humor from Billy's alcoholic boss. Jessica Walter gives Hope's patrician mother just the right deadpan reaction to the zaniness surrounding her. Jessica Stone is sarcastic and sexy as Erma, Moonface's loose-hipped accomplice.

Add Martin Pakledinaz's gorgeous 1930s costumes and Peter Kaczorowski's romantic lighting and you have the ideal "Anything Goes." Back Stage readers take note: I wouldn't be surprised if this limited engagement extends beyond the summer or even goes out on tour. Get your tap shoes ready for the next chorus call.

Presented by Roundabout Theatre Company at the Stephen Sondheim Theatre, 124 W. 43rd St., NYC. April 7–Jan 8. 1. Tue.–Sat., 8 p.m.; Wed., Sat., and Sun., 2 p.m. (Tue., April 26–Sat., April 30, and Tue., May 3–Fri., May 6, evening performances at 7 p.m.) (212) 239-6200, (800) 432-7250, or www.telecharge.com. Casting by Jim Carnahan and Stephen Kopel.