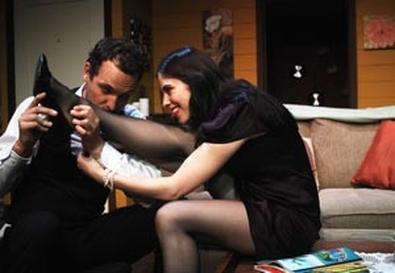 An evening of two one-hour one-acts by writer-director Matt Morillo swings wildly from pointed, realistic, and interesting debate to pointless, ludicrous, and unfunny. The casts are acceptable, but Morillo sets an overblown tone that damages the best material in the opener.
The title
All Aboard the Marriage Hearse
refers to a column written by Sean (Keenan Henson), who believes that marriage is an outdated and unnecessary institution. The problem is that Amy (Jessica Moreno), his girlfriend of three years, decides she really wants a wedding. Morillo's script isn't so much a story as a debate about marriage, one his characters deftly deliver. After a clunky few minutes, the argument gets rolling. Moreno and Henson display a wide range of emotion: anger, disgust, love. As Sean, Henson carefully straddles the line between a man in love and one who clearly never intends to lose an argument. And Moreno's Amy is innocent and romantic—but not in the bubble-headed way that similar characters are portrayed in romantic-comedy movies. Most of the jokes seem like add-ons and tend to fall flat, but when Morillo lowers the intensity in the quiet moments, his exchanges reflect reality.
But
Stay Over
is a mess from the start. Mark (Tom Pilutik) is trying to get back together with Michelle (Moreno, in a performance that is almost an exact duplication from the first act). The problem is that Michelle allowed Mark to have an affair, and it turns out he chose to have it with Lily (JessAnn Smith), who is like a cousin to Michelle. As with
Marriage Hearse
, this is more of a protracted rant. The personality changes in Mark and Lily make no sense, and the minimal plot contains several inconsistencies. A lengthy nude scene is neither funny nor shocking, only odd. All three performances match Morillo's cartoonish dialogue, and the result resembles a rudderless improv sketch.
Presented by KADM Productions at the Lounge Theatre, 6201 Santa Monica Blvd., L.A.
May 29–July 5. Fri.–Sat., 8 p.m.; Sun., 7 p.m. (No performance July 4.) (323) 960-5521. www.kadm.com.