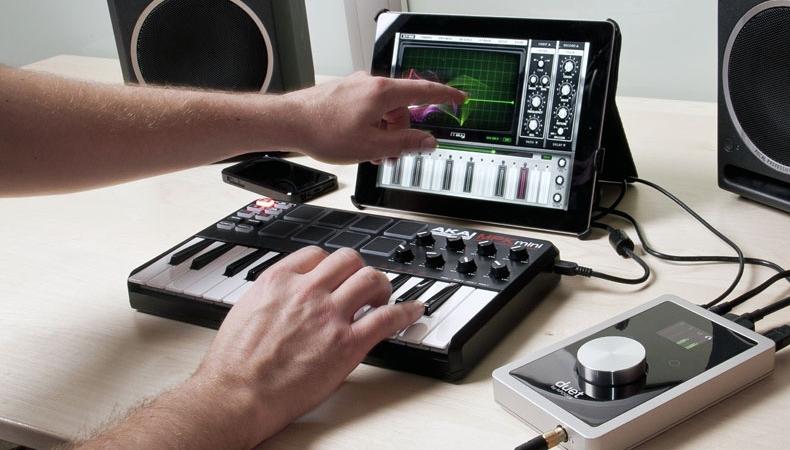 What It Is
Apogee Duet for iPad & Mac
What It Does
A professional USB audio interface for Mac.
Where to Buy It
http://apogeedigital.com
What It Costs
$595
When it comes to your career, sometimes you're better off springing for pricey products. Case in point: Apogee Digital's new Duet for iPad & Mac. Its $595 price is unquestionably steep. But if you do a lot of recording, and want to be absolutely sure that your concert, cabaret, or other performance sounds the best it possibly can, and if you want it to work with both your Mac computer and another iOS device, you really should consider it investing rather than splurging.
In addition to being an audio interface, the Duet is also a headphone amplifier and a MIDI interface, making it possible for you to create excellent-sounding recordings pretty much anywhere—even if all you have handy is your iPod touch, iPhone, or iPad. (Using the Duet with the iPhone 5, fifth-generation iPod touch, fourth-generation iPad, or iPad mini requires purchase of a $29 Lighting to 30-pin Adapter from Apple.)
The Duet's features include low latency monitoring, complete input and output control when used with Apogee's Maestro software and USB 2.0 audio with 24-bit (192kHz) A/D and D/A conversion. Apogee's own Soft Limit technology prevents digital clipping by, according to the company's website, "instantaneously rounding off transient peaks before they hit the analog-to-digital converter."
You get two analog inputs, each with what Apogee calls a "world-class" mic preamp and selectable 48V phantom power, two balanced analog line outputs, one independent quarter-inch stereo headphone output, and a single USB MIDI connection for hooking up a CoreMIDI-compatible keyboard, synthesizer, or controller, thus eliminating the need for an external MIDI interface.
Included with the Duet is a special breakout cable with two combination microphone-instrument connectors (dual XLR and quarter-inch) and quarter-inch speaker connectors. Want something even handier? A special breakout box accessory ($149.95) is available that gives you all the same inputs and outputs, but lets you better organize your recording space.
The Duet interface works with a number of multitrack recording digital audio workstation apps such as: GarageBand and all Core Audio–compatible apps on both the Mac and iOS platforms; Logic, Pro Tools, and Ableton on Mac; and Auria and Multitrack on iOS.
In addition to its price and the aforementioned lightning compatibility matter, the biggest drawback with the Duet is that it's available only for Macs—PC users will need to track down another interface. They (and anyone who can't afford the Duet) will be well served by the sub-$200 iTrack Solo, which we covered here back in October; it's both capable and supported on a broader range of platforms. But don't expect the audio you get from it—or most other interfaces in this price range—to match what you hear from the Duet.