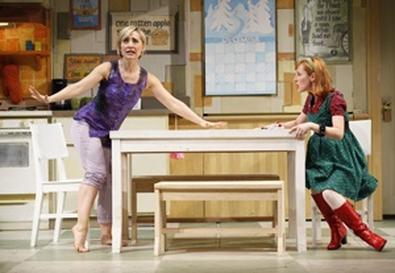 Fans of "The Twilight Zone" will no doubt be familiar with the premise: An outside force disturbs the peaceful residents of an insular community, only to reveal that the real threat to safety is the residents themselves. The well-trodden theme appears, worse for wear, in "Apple Cove," a new play by Lynn Rosen at Women's Project that combines camp with convention to little effect.
Newlyweds Edie and Alan (Allison Mack and Erin Gann) move into the idyllic community of Apple Cove, "a gated suburban community in a part of the country where it is always warm," according to the program. Faced with the idea of a house of their very own, Alan exclaims, "We'd be so adult here, Edie!" Of course, little could be further from the truth. Not only is the couple moving next door to Edie's father, the domineering Gary (Paul Carlin), who's also the owner of the development, but they're entering a childproofed world. With their elaborate security systems, Apple Cove residents are afraid of everything from terrorism to ethnic food and prime numbers. When Edie yelps after pricking herself on a thorn, multiple neighbors call to see what's wrong. It's only a matter of time before something cracks. Through a series of encounters with the "danger" that lurks outside Apple Cove, as well as the obligatory romp with another man that always seems to occur in these stories, Edie awakens her wild, sexual, dangerous side.
Rosen's script is administered with a great dose of camp: Alan and Edie's life together is governed by ridiculous pet names, spontaneous singing, and carefully crafted morning "routines" that when flubbed by Edie throw Alan into a passive-aggressive fit. But while such campiness can successfully satirize stale ideas or allow a production to tackle difficult material more effectively, it's hard to know what to make of it when paired with Edie's sincere but trite efforts to find herself. The hackneyed nature of the journey combines with the production's kitschiness and Giovanna Sardelli's overblown direction to make it all seem like a big joke. But the earnestness of Mack (just off her regular gig as Chloe Sullivan on the CW's "Smallville") paired with Edie's apotheosis at the play's end further confuses the tone; it recalls the deification of Edna Pontellier in Kate Chopin's famous protofeminist story "The Awakening."
Mack's counterpoint is Kathy Searle, as Mary, Gary's new wife and Edie's childhood nemesis, whose thinly veiled spite and snarky asides are a highlight. Puzzling, however, is Gann's Alan, whose devolution from proud husband to paranoid wreck over the course of the play could be far more interesting than Edie's predictable transformation. But Gann's simpering portrayal does little to illuminate the man behind the breakdowns.
It's bewildering that Women's Project, which has been successfully nurturing female playwrights and directors for 33 years, would present such a confused portrayal of a woman's self-discovery. Not only has the story in "Apple Cove" been told before; it's been told with both more humor and more impact.
Presented by Women's Project at the Julia Miles Theater, 424 W. 55th St., NYC. Feb. 6–March 6. Tue. and Wed., 7 p.m.; Thu.–Sat., 8 p.m.; Sun., 3 p.m. (Additional performances Sun., Feb. 27 and March 6, 7 p.m.) (212) 239-6200, (800) 432-7250, or www.telecharge.com. Casting by Alaine Alldaffer and Lisa Donadio.