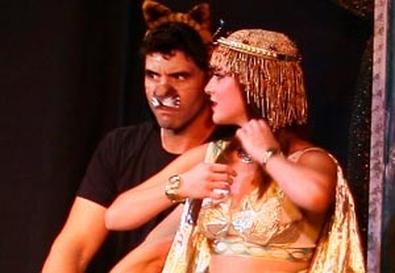 This 1966 Broadway musical is a triple-header, based on short stories by Mark Twain, Frank R. Stockton, and Jules Feiffer. The score is by composer Jerry Bock and lyricist Sheldon Harnick (
Fiddler on the Roof
and
She Loves Me
collaborators), who also penned the book, with additional material by Jerome Coopersmith. Despite the creators' pedigrees, this tuner comes across as a mildly tasty array of hors d'oeuvres rather than a theatrical feast. Crown City achieves a serviceable realization of its modest charms.
The most enjoyable segment is the closing one,
Passionella
, derived from Feiffer's satirical lark about a downtrodden spinster (Stephanie Fredricks) longing to escape the drudgery of her chimney-sweep job to become a glamorous Hollywood star. This tongue-in-cheek piece, reminiscent of vintage TV-variety-show sketches, is spryly directed by Matthew J. Williamson and features the evening's strongest performance: Fredricks brings a sublime zaniness to her characterization of a dreamer who gets what she wants—or does she? Fredricks belts out the goofy number "Gorgeous" with wit and style. Her portrayal is smoothly matched with Ben Rovner's smart take on a hippie singer, Passionella's very unlikely Prince Charming.
The Lady or the Tiger
?, capably directed by William A. Reilly and based on Stockton's enigmatic parable, examines how far a jealous woman will go to get her man. In an unspecified barbaric kingdom, men arrested for crimes must choose between two doors to determine their guilt. Behind one is a beautiful girl he can marry; behind the other is a vicious tiger. As the woman in love with the imprisoned Captain Sanjar (dashingly played by Josh Helmuth), Kit Paquin is sultry and alluring in her songs and characterization. The action is fast-paced, and the songs are sprightly in this moderately engaging piece.
The playlet with the most potential depth,
The Diary of Adam and Eve
, from Twain's story, comes across as the least involving here. Directed by Gary Lamb, it takes a bittersweet look at the meeting, union, and separation by death of the world's first couple (Williamson and Morgan Landers). Battle-of-the-sexes gags and jokes concerning mankind's adjustment to the universe provide a degree of fun, and two of the rueful ballads are solid. The actors are game, but this meandering adaptation never quite packs the expected punch.
Presented by and at the Crown City Theatre, 11031 Camarillo St., North Hollywood. June 6–28. Fri.–Sat., 8 p.m.; Sun., 2 p.m. (800) 838-3006
.