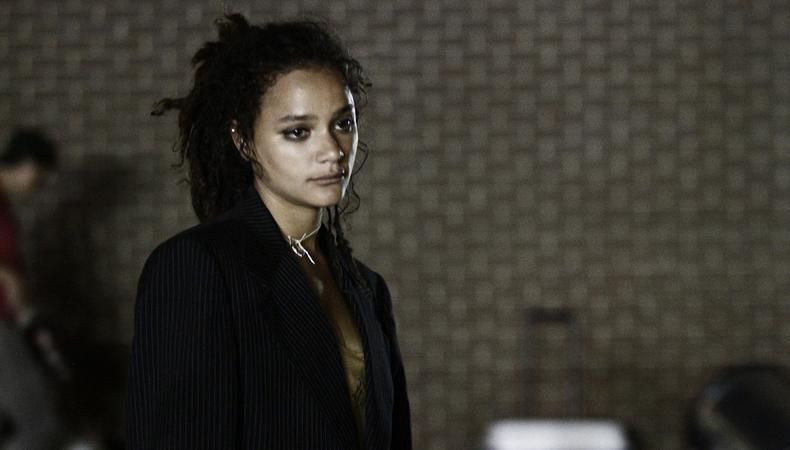 Sasha Lane's first major role is proof that anyone can catch their first big break at any time. The first-time actor had never before been cast in anything, let alone a film, when acclaimed director Andrea Arnold approached her on a Panama City beach and offered her a part in the buzzy indie film, "American Honey." Lane plays Star, a naïve but big-hearted teen caught up in the world of a roving "mag crew" road tripping across the country and selling overpriced magazine subscriptions. Sasha talked to Backstage while at Fantastic Fest in Austin, Texas, about the film's freewheeling production, bonding with her director, and trusting oneself.
On how to keep your cool in a big, first-time role.
"Everything happens for a reason. You wouldn't be in that position if you're not meant to be there, so be open to it. Fear is what holds us back the most, and even though it feels like an obvious thing... you have to be open, and know that clearly you're in that movie for a reason. You just gotta go with it. Trust yourself.
READ: 9 Tips for Your First Time on Set
On prepping for scenes.
"I like to create my own little vibe, so I'm really big on doing that through music. So for more serene things, or where you're really in your thoughts, people like Daughter or Alina Baraz, and then something like, really dark and hard for harder scenes—just whatever I felt would match my character's mood. One time when we were filming a really [complex] scene, Andrea said to me, 'Sasha, you are representing so many different people right now. It's tough, and it's personal, and it's for everyone else.' And then I thought, I have to do this. It's bigger than me. It's bigger than just my fear. That's such an amazing thing. I thought, That's so beautiful and so right and it makes me feel like, Why on Earth would I hold back just because I'm scared, when I could be representing so many people that feel like this or go through this?"
On the turning point of her relationship with Andrea Arnold.
"At the end of the week we spent together when she first found me, we were walking down the pier, and I looked at her and I just felt so overwhelmed to the point where I wanted to cry because I felt so whole. I felt like I was supposed to meet her. I felt so connected, and I felt like she wasn't going to screw me over. Oh my gosh, it's such a good feeling. That's when I really thought, It's OK to do this and to trust this person. It's OK to be in this moment and enjoy it, and [it was OK] to go do something that terrifies you."
On what she learned from 'American Honey' for future roles.
"I felt really good the whole time I was filming it. Obviously there were hard times, but I had a sense of, 'You're supposed to be here. This is good.' After I saw the movie I thought, I'm proud of myself for this and I'm proud of this film. I just know that I always have a lot to learn, but I can be who I am and do things that I can be proud of regardless. I'm going to [take] that with me, and keep asking myself, 'Do you feel good about this?' And make sure I do each time."
*This post was originally published on Sept. 30, 2016. It has since been updated.
Looking to catch your big break, too? Check out our film audition listings!