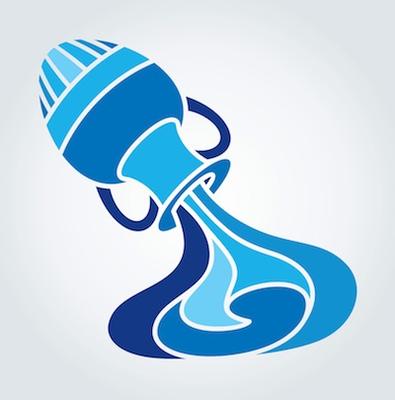 Aquarius (January 20 – February 18)
Jupiter in fellow air sign Libra will start working overtime for you as the planet of luck and expansion turns direct in your creative 5th House. You'll definitely feel like circulating a bit more and collaborative efforts to birth a project will seem to move forward with less resistance. Being more dramatic—taking on more colorful roles, stretching beyond your comfort zone, showing off your funny bone—is in the cards and is fundamental to your growth. Support may seem to come out of the wings even more as you've learned lesson around humility and being a team player. Be open to projects that come in easily and through your existing connections.
Mars moving into Cancer and your 3rd House of communication underlines your need to get out in the world and see people up close and personal. Any chance to showcase your way with words, from a heartfelt email to a follow-up thank you note, can really hit home right now. While you usually show off your dazzling intellect, it's going to be your ability to connect one-on-one right now that is more of a catalyst for opportunity. With Venus moving into mellow Taurus and your 4th House of home and family, you're hungry for the familiar and the comfortable in your personal life. No, I'm not suggesting that you go back to an ex but you might feel bit by the cozy bug and ready to slow down and canoodle more than usual. You're uncharacteristically materialistic this month too, and sprucing up your nest might come in handy.
Kelly Chambers is a writer, actor, and astrologer living in Los Angeles. She can be reached for private astrology readings through her website theastrologersdaughter.com. You can also check her out in the web series "Break Hollywood with Nice & Fargo," a comedy by actors for actors. Follow the latest in cosmic news on her Instagram and Twitter. She welcomes your comments and insights.
Ready to see what else June has in store for you? Check out our film audition listings!