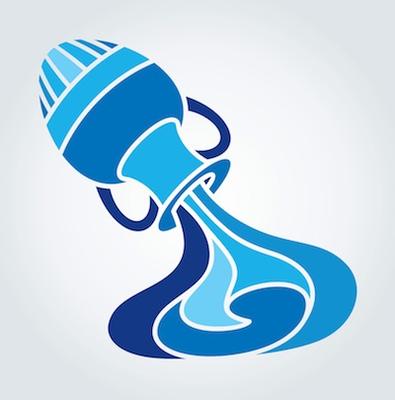 AQUARIUS (January 20 – February 18)
There may be so much going on that you can barely keep up, but that's great! It means you're in the game. The volatile planetary mixture in your 3rd House of Communication has you sorting, prioritizing, interviewing, meeting, greeting, and probably wearing a variety of different hats. This will only intensify in the second half of the month when the Sun and Mercury join in the fun, asking you to keep up this juggling act and deal with the daily out-of-left-field developments that are creating new neural pathways (assuming you don't short circuit first).
Aquarians don't like to be pegged, so this a great time to showcase your kaleidoscopic abilities and liberate yourself from others expectations. You'll likely collect a lot of good material and be feeling prolific, so do something with it, like write!
It also appears that your source of security is undergoing some sort of makeover, perhaps kicking up uncertainty around your income. With the Sun and Neptune in your 2nd House of Money at the beginning of the month, there's something interesting afoot concerning how you bring home the bacon, something that requires a certain degree of detachment and space. You're out for answers and fact as per usual (fixed/air sign), but the best way to deal with finances specifically is to chill out a bit and know you're exploring pathways that will lead to abundance, albeit in a different way. In short: uncertainty here is actually your friend. The less attached you are to selfish gains and the more you strive to offer service, the better shape you'll be in.
Kelly Chambers is a writer, actor, and astrologer living in Los Angeles. She can be reached for private astrology readings through her website theastrologersdaughter.com. You can also check her out in the web series "Break Hollywood with Nice & Fargo," a comedy by actors for actors. Follow the latest in cosmic news on her Instagram and Twitter. She welcomes your comments and insights.
Ready to see what else March has in store for you? Check out our film audition listings!
The views expressed in this article are solely that of the individual(s) providing them,
and do not necessarily reflect the opinions of Backstage or its staff.