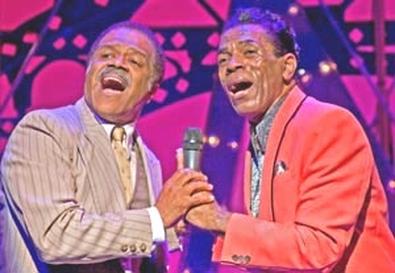 Here's a high-concept idea: Tartuffe, Molière's timeless purveyor of religious hokum, as an African-American preacher-huckster. Set the piece during, say, the Harlem Renaissance, and in a church, complete with a roof-raising choir and lots of plate passing, giving of testimonials, and proclaiming of hosannas. Make sure that not only is Orgon, the character who falls under Tartuffe's spell, an emblem of blind and unquestioning faith, but that Orgon's family—Elmire, his wife; Cleante, his brother-in-law; Damis, his son; and Marianne, his daughter—functions as it does in Molière's original play, as the inextinguishable voice of reason.
Well, Alfred Preisser and Randy Weiner have indeed devised this idea, and on paper it fascinates. André De Shields as a smooth-as-a-baby's-bottom conniver—isn't that pitch-perfect casting? But a funny thing happened on the way to the pulpit, what with Preisser and Weiner inexplicably excising
Tartuffe
's most memorable character, Dorine. Equally mystifying: Why is Damis (pouty Jabari Brisport) a lipstick-wearing goth? Why is Marianne (sensuous Soneela Nankani) sexually aroused by her father? Why is Cleante (dashing Lawrence Street) overtly gay? Why is Elmire (Kim Brockington) only into kinky sex? Could it be that Orgon (Ted Lange, most familiar as Isaac from the 1970s TV show
The Love Boat
) sees Tartuffe, despite a strong whiff of sleaziness you can smell from miles away, as a refuge from reality?
The answers to these and many other questions are withheld by the authors. And Preisser, whose staging of the piece effectively maximizes the boxy Clurman Theatre, muddies the waters more by giving the scantily clad but comely choir (Jennifer Akabue, Gina Rivera, Charletta Rozzell, and Kisa Willis) far more stage time than required. Indeed, Preisser and Weiner so thoroughly tinker with Tartuffe's structure that it's unrecognizable. For example, so much attention is given to how Orgon is lured into Tartuffe's orbit that the play might as well be called
Tartuffe
:
A Prequel
.
What this glorious mess still boasts, though, is De Shields, a national treasure, who may not always possess the finest skill at choosing projects but is nevertheless one of our most fearless performers. Several times Preisser directs De Shields to venture among the patrons and engage them in ribald chats, like a pious Dame Edna. At the performance I attended, he gently nuzzled his nose and mouth into a woman's neck while getting comfortable in her lap. It was almost enough to make you forget how misbegotten this whole effort is. And I'll never forget seeing De Shields in nothing but Papi underwear in the final scene, when Tartuffe is arrested for his various crimes. As Lange's intellectually challenged Orgon stood in shock, disbelief, and despair, it was easy to identify with his state of mind.
Presented by the Classical Theatre of Harlem at the Clurman Theatre, 410 W. 42nd St
.,
NYC. June 25
–
July 19. Tue
.,
7 p.m
.;
Wed
.–
Fri
.,
8 p.m
.;
Sat
.,
3 and 8 p.m
.;
Sun
.,
3 and 7 p.m
. (
212
)
279-4200 or www.ticketcentral.com
.