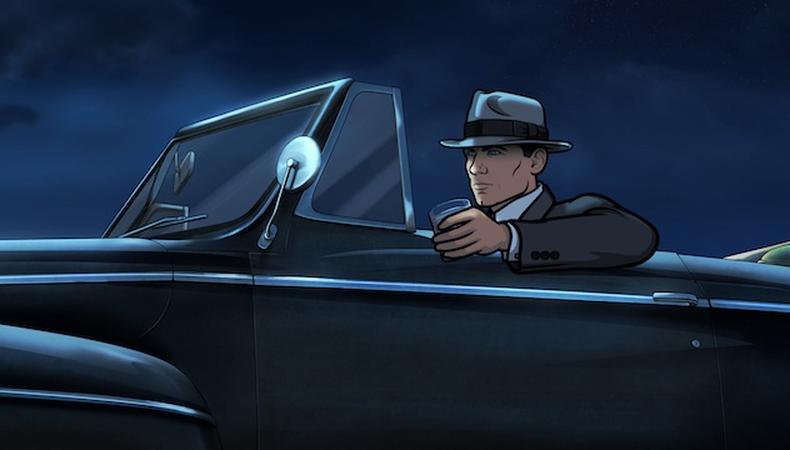 According to "Archer" executive producer Matt Thompson, his hit FXX animated series' new season is a "voiceover actor's dream." Whether he's just playing with this eighth installment's title, "Archer: Dreamland," is up for debate, but speaking with him about the season's challenges and rewards, it appears he's hardly kidding. You see, the entirety of these upcoming episodes (the first of which premieres tonight, April 5, at 10 p.m.) takes place within Sterling Archer's mind; he's in a coma after being shot at the end of Season 7. With nothing less than the human psyche as a playing field, the possibilities are endless.
Here, creator Adam Reed has set Season 8 in 1947 Los Angeles, where Archer, a noir-era private eye, is seeking revenge for the death of his partner, Woodhouse. Instead of the familiarly sleek government facilities inherent to the adult cartoon's espionage premise, this season is all smoky bars, dark alleyways, and Humphrey Bogart-level cool. It also gave the series' ensemble of voice actors a welcome chance to creatively riff on their well-worn characters.
Thompson spoke with Backstage about the pleasures of bringing new characters to the small screen, what a day in the recording studio is like, how he and Reed cast the series, and why he wants voice actors who have a background in improv comedy.
---
Season 8 posed unforeseen voice acting challenges.
"[Our actors] have been doing the same characters for seven seasons in a row, and each one of them has a new acting challenge in front of them for this season. So specifically from a voiceover actor's standpoint, it's been very interesting and awesome and exciting. All of the actors have had so much fun this season just chewing scenery with this character that is the same but somehow different. And it's really interesting to watch how each one of them tackled that.
"For example, Pam Poovey, this season, is Poovey the detective. And it's not clear if Pam is a woman or a man. Before the season started, we were like, 'Hey, Amber Nash, please go watch Russel Crowe in 'L.A. Confidential' and be like that as much as possible.' We wanted her to be a top no-holds-barred cop. But the biggest challenge by far was the character Doctor Krieger, [who is] voiced by an actor named Lucky Yates. We've always alluded to his Nazi Germany past, but as we go back and set the show in 1947, we find out that yeah, he was working for the Nazis, and there's one particular episode where he has to speak entirely in German. The actor does not speak German. And so we actually recorded and made this German-speaking actor say his lines, and he listened to that for two weeks, and just got ready and came in and did a great job. As far as I know—I don't speak German, but it sounded good to me!"
Actors record alone in the sound booth, never together.
"We seldom ever put two actors together in a booth because I'd rather see an actor improv with me directing than with other actors because I'm trying to essentially use every actor's time well. As you're on a cartoon and you are reading with other people, there's a lot of scenes that you're left out in, and so you'll be there for however many hours SAG will let you be there, and it's a waste of time for your six lines. And so I've always been along the [thought process] of, 'Let's do your bit. Let's improv after we get the lines.' "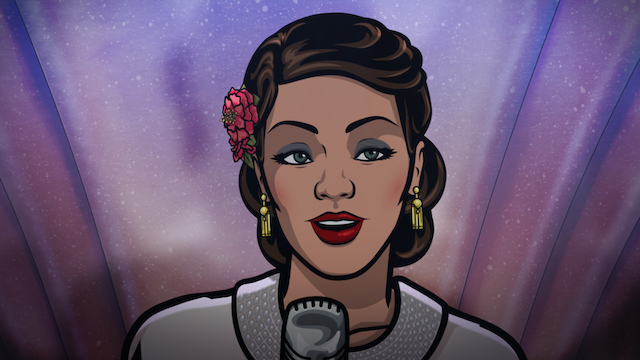 Thompson doesn't hold table reads or rehearsals.
"For starters, we do not do table reads. We don't get everybody together. And so that makes it very easy on our actors to be, you know, Aisha Tyler has about 17–27 jobs at any given time; she couldn't get together for table reads anyway! [With] our actors in New York and L.A. and Atlanta, it would just make for a huge nightmare. So that's No. 1: no table reads.
"No table reads means also no rehearsals, but that's fine with me because all of our actors have been doing this for so long. They know their characters just as well if not better than we do. So it's not like I want to tell them at this point, 'Let's rehearse your lines of this character that you now inhabit and probably can think like and dream as.' So making 'Archer' from an actor's standpoint is about as easy on your time and schedule as it could possibly be. But we also depend on them for a lot. We depend on them to come in and do it great every single time—and they always do."
In terms of an actor's voice, it's quality over quantity.
"I have some very specific things that I look for [when casting]. I think anybody that runs a show, a cartoon, is different for what they look for. For whatever reason, this is what I have found I like personally best…. I don't employ a lot of people who can do 20 voices. I prefer a natural voice that somehow has a characteristic that makes it so it doesn't sound what I would call, like, a normal person's voice. It has to have some reason why that voice jumps out off the screen to me. Not using my show as an example, using 'Bob's Burgers' as an example: Kristen Schaal, Eugene Mirman, Jon Benjamin [who also voices Sterling Archer]—those voices just leap out at you. The secondary question that I always ask is, 'Are they doing a voice?' I find that the majority of humans can't fully vocally act as they're doing a voice. I'm sure there are exceptions to every rule, [but] I find it hard to get [emotions] out of people doing voices."
Improv experience gets you to the front of the line.
"I cast on two things. One: Does your voice jump out without doing a voice? And two: All things remaining equal, what is your improv comedy background? I think that improv comedy is one of the hardest things to do and not be shitty at it. Ninety percent of it is horrible. But if I find somebody that I think can make the character better than it is on the page, I will definitely gravitate there."
But keep your improv tight!
"Yes, I look for improv in your acting, but you've gotta be able to do it tightly and put a button on it. If you get to your joke after 10 seconds, it better be five, otherwise it's getting cut out and you're of no use to me because a line is going to come after you, and that joke is not more important than the flow of the episode. Some of the best improv I've ever heard in my life is just going nowhere because the focus became too much about that line. You can only allow for the focus to be so small. So tighten up your improv around your singular line. No line is so good that I can impact the entire 22 minutes. There is not a read or a line that you can do that is going to be that important to me."
Want to star in an animated series? Check out our voiceover audition listings!