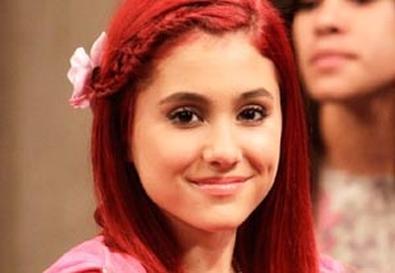 "Music is really driving my whole life," says Ariana Grande.
A native of Boca Raton, Florida, she got her big break when she was cast in the Broadway's "13: The Musical" at the age of, you guessed it, thirteen. A double threat as actress and singer, Ariana can currently be seen playing Cat Valentine in the new Nickelodeon show "Victorious," about a fictional performing arts school.
A true music-junkie, Ariana writes her own songs on her computer, and is preparing her debut album. When she's not shooting, she works with a charity run by her brother called Broadway in South Africa, where she teaches kids affected by HIV/AIDS how to sing and dance.
Ariana is one of the happiest people you'll ever come across, and her good cheer is sure to put a smile on your face. Chosen as this week's Girl2Watch, Ariana will be featured in a series or articles, fun facts and social media tweets through this week for subscribers of
Girl2Watch.com
.
ACTOR2WATCH
: What was your big break?
ARIANA GRANDE
: My first really, really, really exciting professional job was "13: The Musical" on Broadway; music by James Robert Brown and written by Robert Horn. It was such an amazing experience.
I was a part of the project for a really long time. They did a run of it in the Mark Taper Forum in L.A., which I was not a part of, but then they brought it to New York and we did a reading and it started there.
A2W
: Did you have one audition you remember that didn't go particularly well?
AG
: I had this one audition for a Broadway show. They did the dancing first, and I was all ready to dance and I was so excited. And I was really thrilled because I had done all the choreography correctly and I was like, "Thank, God. I'm so, so, so excited."
And they were cutting people straight from the audition and they said, "You have to go because you weren't silly enough." And I was like, "What?" And they were like, "You were supposed to make goofy faces." And I was like, "Excuse me?" And then that was it.


A2W
: Who did you study with?
AG
: I just started taking voice lessons. I never took voice lessons before "13," but after "13" and when "Victorious" started, I met Eric Vetro, who is my best friend and a part of the family now. And he's the most incredible voice teacher in the entire world. He warms up your voice and takes care of it. He's like a nurturing mother, but for your vocal cords. I love him.
A2W
: Do you have any tips for people who are staring out?
AG
: All I have to say is basically if performing, singing, acting ,and dancing is what you want to do, then you just have to do it—no matter where it is. If there's a community theater, if there's a family theater, if there's just a little orchestra that you can sing with in your community or a school play, you have to keep performing no matter where it is, even if it's in your living room for your grandparents.
I did stand-up for my grandparents every day when I was like eight. You just basically have to keep performing, even if it's in the shower, and it'll just happen if it's meant to be because I only did children's theater and community theater until, basically, "13." And it was so random, and I was so thankful. If it's meant to be, it definitely will happen at one point or another.
A2W
: Do you have a dream role or some role that you'd really like to play?
AG
: Well, I was in a Broadway show before, and I have to say that nothing would replace that feeling. It's one of the most amazing things in the entire world. But as far as dream roles—I know this is so expected of me, but I would to play Elphaba in "Wicked" on Broadway. I have a lot of dream roles, but that's like my main one because of the vocal track. I love belting high things!