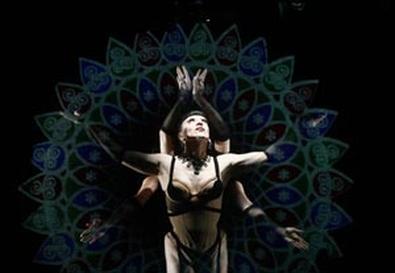 Drag diva Joey Arias is accustomed to the fantastical. A foundational part of New York's drag scene in the 1980s, he later landed in Las Vegas to emcee as the Mistress of Seduction in Cirque du Soleil's "Zumanity." But even the eye-popping chimeras of that stage would be hard-pressed to match the puppetry magic of the singular Basil Twist, who partners with Arias to create "Arias With a Twist."
The show premiered in 2008 in the basement quarters of Here Arts Center, and it's difficult to imagine how these two madcap minds ever fit into that small space. The much roomier stage at Abrons Arts Center allows the team to add "deluxe" touches to the charming original production. When we first encounter Arias, he's strapped onto a circular metal operating table, which revolves and flashes as he launches into the over-the-top opening number, Led Zeppelin's "Kashmir." A series of jaw-dropping projections by Daniel Brodie combine with Twist's puppets to enhance Arias' transformations into a Hindu goddess and a tentacled sea creature. The sets—re-creating the far reaches of outer space, a lush rainforest, and the whole of New York City in miniature—are enthralling.
Who knows how Arias got there—and who cares? Spectacle rules the day here, with the visceral and visual reigning over logic and plot. But it's so grandiose at times that it overwhelms Arias' breathless patter between songs. His quips and self-conscious silliness ("Roswell that ends well!" he says with a shrug after an encounter with an alien probe) would be at home at many a drag cabaret, but here they are in marked contrast to the quick pace of the musical numbers and puppetry. At the first performance, Arias seemed a bit ill at ease with elements of the set and occasionally in his voice, particularly during Alex Gifford's original number "Jungle of Eden."
After a mind-bending journey through Twist's bizarre universe, the show reaches its height when it re-creates the most familiar of places: a New York jazz lounge. Here is where Arias and Twist best complement each other. Arias shines in the cabaret environment that launched his career, reclaiming his poise and sultry confidence. By far the most captivating number in the show is "You've Changed," performed a la Billie Holiday, whose song stylings and signature rasp have become signatures of Arias as well.
He's backed by the enchanting Dream Music Orchestra: four wooden puppets originally created in the 1930s for Twist's grandfather and newly returned to the stage after years of disuse. As talismans of the big band era, they—and their pairing with Arias' decidedly modern interpretation of old-world glamour—transport you back to the New York of decades past. After a whirlwind tour of new worlds, it's fitting that "Arias With a Twist" winds up there, in the city that inspired the production. It's a love song to a blend of unique talents that only New York could bring together.
Presented by Barbara Busackino, Tandem Otter Productions, and Abrons Arts Center, in association with Dream Music and John L. Moore, at Abrons Arts Center, 466 Grand St., NYC. Sept. 18–Oct. 16. Wed.–Fri., 8 p.m.; Sat., 8 and 10:30 p.m.; Sun., 7 p.m. (212) 352-3101, (866) 811-4111, www.theatermania.com, or www.abronsartscenter.org.