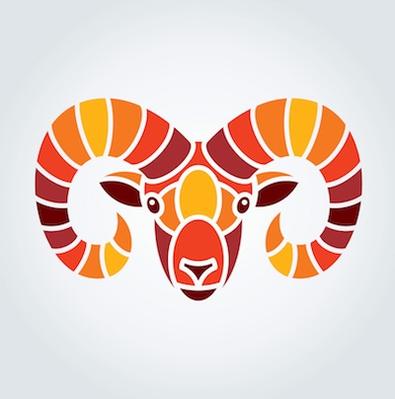 Aries (March 21 – April 19)
The light shines on you this month, Aries! The Sun entered your sign and self-expressive 1st House on March 21st, catching eyes and turning heads. This has only be amplified by alluring Venus in your sign. The planet of love and beauty, however, will leave your sign and retrograde back into Pisces on April 4, perhaps serving as a valuable reminder that you can't rush a good thing or force something that's not in your best interest. This opportunity for inner spaciousness and surrender around love means you can more clearly chart a course for romance when Venus reactivates in Aries on April 29.
In the meantime, place more focus on you and what it is you're intentionally trying to cultivate. You've got the cosmic impetus (Mars and Mercury in your 2nd House of Finances) to slow down and nourish yourself by providing more time for reflection, material comforts, and good food—think sensuality and epicurean delights! You'll likely learn new ways to shake the money tree or with Mercury turning retrograde on April 10, revisit an old connection that could aid and abet fattening your wallet. The main theme for you is to enjoy yourself and the abundance you have created. It's true: if you love what you have, you'll have what you love. As capable as you are of charging forward, April is a time of quality over quantity and allowing space between your actions to make sure they're truly resonant with your inner fire of purpose.
Kelly Chambers is a writer, actor, and astrologer living in Los Angeles. She can be reached for private astrology readings through her website theastrologersdaughter.com. You can also check her out in the web series "Break Hollywood with Nice & Fargo," a comedy by actors for actors. Follow the latest in cosmic news on her Instagram and Twitter. She welcomes your comments and insights.
Ready to see what else April has in store for you? Check out our film audition listings!