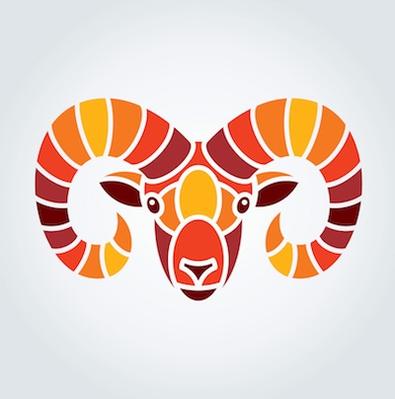 ARIES (March 21 — April 19)
Happy (early) birthday! Having had Uranus in your sign since 2011, you've been no stranger to change. While the largest life alterations having been acknowledged and undergone, you're still shaking and moving, and this month is no exception. With not only Uranus, but Venus and Mars firing you up, there's a flurry of new growth sprouting vociferously from various facets of your life, with relationships on the marquee. You may feel like you're not exactly ready, but remember that's part of the fun and what keeps you in the game! You like the impossible and uncatchable. There's a reason astrological shorthand boils you down to words like "trailblazing" and "pioneering"—you are driven to be first and learn courage in the face of fear.
At the same time, action and attention is needed as certain surrender is required. Some sort of dissolution is going on behind the scenes (Sun/Mercury/South Node/Neptune in the 12th House). Just think of how a rocket detaches from its extraneous hardware before it goes its orbit. It's as if you have to say goodbye to one identity as you try on this new one and it won't be a perfect process. Something may have to be sacrificed, like an attachment to a person, a selfish or self-defeating attitude, or even your representation. Only you know in those rare quiet moments what that is.
With the unknowable 12th House theme this month, the more you can consciously unplug the more access you'll have to your intuition which is rooting for you to take a breather before the real action begins. When Mercury enters Aries on March 13 and the Sun on March 20, it will be all systems go and you'll have a stronger grip on the steering wheel. If there was a day to be seen this month it would be March 25 when the Sun and Venus join in your sign, offering you oodles of charm and animal magnetism. And though Venus is retrograde (think introverted) from March 4-April 15, it only prolongs this attractive planet in your sign, ultimately bringing clarity and direction to relationships.
Kelly Chambers is a writer, actor, and astrologer living in Los Angeles. She can be reached for private astrology readings through her website theastrologersdaughter.com. You can also check her out in the web series "Break Hollywood with Nice & Fargo," a comedy by actors for actors. Follow the latest in cosmic news on her Instagram and Twitter. She welcomes your comments and insights.
Ready to see what else March has in store for you? Check out our film audition listings!
The views expressed in this article are solely that of the individual(s) providing them,
and do not necessarily reflect the opinions of Backstage or its staff.