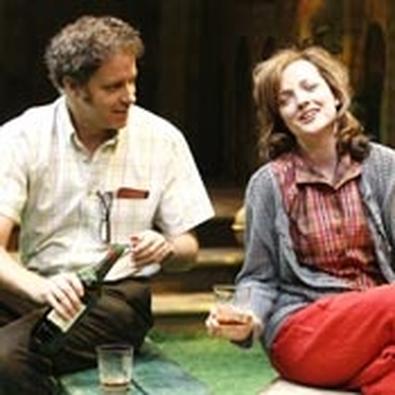 Stories about once-wealthy families and the homes and land they can no longer support are ubiquitous on New York's stages these days. Horton Foote's Dividing the Estate just concluded its Broadway run, and Chekhov's The Cherry Orchard is ensconced in Brooklyn. A triptych of sorts is completed with the arrival of Charlotte Moore's admirable if uneven revival of Brian Friel's 1979 play Aristocrats.
The play takes place in a Georgian manor overlooking the sleepy Irish town of Ballybeg (set designer James Morgan ably brings both the home and its environs to life). The O'Donnell family has lived here for centuries, and now the manor is inhabited by the about-to-be-married, emotionally fragile Claire (Laura Odeh) and the practical Judith (a movingly restrained Lynn Hawley), who tend an infirm, once-tyrannical father (Geddeth Smith). Off-the-wagon Alice (an affecting Orlagh Cassidy), a third sister — shades of Chekhov! — and Casimir (an unconvincingly antic John Keating), the women's flighty brother, have returned to the house from their respective homes in London and Germany for the wedding.
There's an impressive history here, much of which is recounted for the benefit of Tom (played solidly by Rufus Collins), the American academic at work on a treatise about Ireland's Roman Catholic gentry. But the past, along with the family's many skeletons and mythologies, can't fix the leaks in the roof and the rotting floors.
Aristocrats has the potential to inspire laughter and maybe even a tear, but in Moore's hurried staging only the former is consistently achieved. Although whenever Ciarรกn O'Reilly — who gives a standout performance as Alice's husband, Eamon, a man not to the manner (manor?) born — takes center stage, the emotional and intellectual appeal of Aristocrats is abundantly apparent.
Presented by and at the Irish Repertory Theatre, 132 W. 22nd St., NYC. Jan. 25-March 29. Wed.-Sat., 8 p.m.; Wed., Sat., and Sun., 3 p.m. (212) 727-2737. Casting by Deborah Brown.