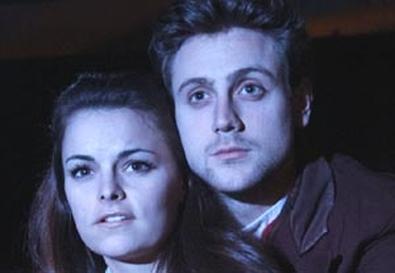 A diverting production of an eloquently written romantic comedy by the prolific 19th-century Dublin-born playwright Dion Boucicault, "Arrah na Pogue (Arrah of the Kiss)" is well worth the trek up to 114th Street. The play is presented in a cozy thrust-stage theater nestled in the basement of the Church of Notre Dame. Located just south of Columbia University, the church features a magnificent sanctuary that audiences are invited to tour en route to the theater.
Though enhanced by Laura Taber Bacon's splendid period costumes, Michael Abrams' evocative lighting, and the lively direction of Peter Dobbins—who keenly employs the sundry nooks and crannies of the space to establish the play's wide variety of locales and activities—the show's success rests largely on the beauty, ardor, wit, and caustic comedy of Boucicault's script. Telling the tale of a spirited young rustic couple about to be married, in Ireland's County Wicklow in 1798, Boucicault's plot is propelled by the extent to which people will go to protect those they love. While essentially a romance, the story is set within the context of the Irish Rebellion against the English and is most entertaining in its amusing portrayals of the clashes between the rival cultures.
Although its comedic aspects are superbly rendered, the play's romantic impact is diminished by weak performances. In the leading romantic roles, Phil Mills is energetic yet superficial, while Nicola Murphy gives a physically static performance, acting only from the neck up. Nothing she expresses seems to emanate from deep inside. As the heroic leader of the rebellion, Jonathan Blakely is only adequately inspiring. As his love interest, Christine Bullen too often speaks with unvarying shrillness, and, as her guardian, Ted McGuinness is afflicted with muddy diction.
The show's outstanding performers are Paul Nugent, who gives a delightfully leprechaunlike interpretation to his villainous role as a devious process server, and Spencer Aste, who is hilarious as an English governmental secretary. Praise also to singer Michelle Kafel, for her haunting a cappella rendition of "The Wearing of the Green," and to Irish step-dance soloist Jennie McGuinness.
Presented by the Storm Theatre at the Theatre of the Church of Notre Dame, 405 W. 114th St., NYC. March 4–April 2. Thu. and Fri., 7:30 p.m.; Sat., 2 and 7:30 p.m. (Additional performance Mon., March 7, 7:30 p.m.) (212) 868-4444 or www.smarttix.com.