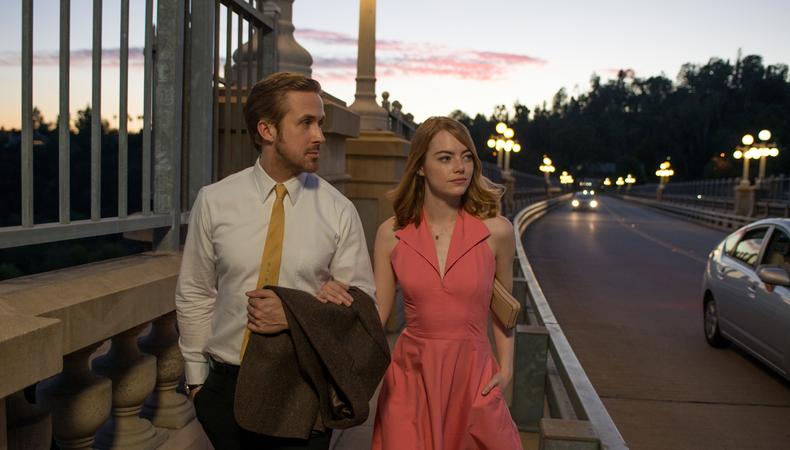 Cheryl Boone Isaacs, president of the Academy of Motion Picture Arts and Sciences, was joined by Oscar winners Brie Larson, Jennifer Hudson, and more to announce the nominees for the 89th annual Academy Awards Jan. 24.
In an especially strong year for the silver screen, there are nine Best Picture nominees; "Arrival" (Paramount Pictures), "Fences" (Paramount Pictures), "Hacksaw Ridge" (Lionsgate), "Hell or High Water" (CBS Films/Lionsgate), "Hidden Figures" (20th Century Fox), "La La Land" (Lionsgate), "Lion" (The Weinstein Co.), "Manchester by the Sea" (Amazon Studios and Roadside Attractions), and "Moonlight" (A24) will all be competing for Hollywood's highest honor.
Golden Globe winners Emma Stone and Ryan Gosling each received their second Oscar nominations for Damien Chazelle's modern movie musical "La La Land," which dominated in 14 categories total—tying the nominations record set by "Titanic" and "All About Eve"—including directing and original screenplay for Damien Chazelle. Two other auteurs also scored dual nods for writing and directing: Barry Jenkins for "Moonlight," which included in its eight nods supporting actors (and first-time nominees) Mahershala Ali and Naomie Harris, and Kenneth Lonergan for "Manchester," which totaled six nods including leading actor Casey Affleck (his second nod) and supporters Michelle Williams (her fourth) and Lucas Hedges (his first). Rounding out the nominees in directing were Mel Gibson for "Hacksaw" and Denis Villeneuve for "Arrival."
Other pairs of performers—Denzel Washington and Viola Davis for "Fences" and Dev Patel and Nicole Kidman for "Lion"—found themselves on the shortlist, as well as leading actor contenders Meryl Streep for "Florence Foster Jenkins" (Paramount Pictures), Isabelle Huppert for "Elle" (Sony Pictures Classics), Natalie Portman for "Jackie" (Fox Searchlight Pictures), Andrew Garfield for "Hacksaw," and Viggo Mortensen for "Captain Fantastic" (Bleecker Street).
The 89th annual Academy Awards will take place Feb. 26 in a ceremony hosted by Jimmy Kimmel. Which four performers do you think will take home the gold?
For a partial list of this year's Oscar nominees, see below. For the full list, visit the Academy's website.
Best Picture
"Arrival" (Paramount Pictures)
"Fences" (Paramount Pictures)
"Hacksaw Ridge" (Lionsgate)
"Hell or High Water" (CBS Films/Lionsgate)
"Hidden Figures" (20th Century Fox)
"La La Land" (Lionsgate)
"Lion" (The Weinstein Co.)
"Manchester by the Sea" (Amazon Studios and Roadside Attractions)
"Moonlight" (A24)
Best Actress in a Leading Role
Isabelle Huppert, "Elle" (Sony Pictures Classics)
Ruth Negga, "Loving" (Focus Features)
Natalie Portman, "Jackie" (Fox Searchlight Pictures)
Emma Stone, "La La Land" (Lionsgate)
Meryl Streep, "Florence Foster Jenkins" (Paramount Pictures)
Best Actor in a Leading Role
Casey Affleck, "Manchester by the Sea" (Roadside Attractions and Amazon Studios)
Andrew Garfield, "Hacksaw Ridge" (Lionsgate)
Ryan Gosling, "La La Land" (Lionsgate)
Viggo Mortensen, "Captain Fantastic" (Bleecker Street)
Denzel Washington, "Fences" (Paramount Pictures)
Best Actress in a Supporting Role
Viola Davis, "Fences" (Paramount Pictures)
Naomie Harris, "Moonlight" (A24)
Nicole Kidman, "Lion" (Weinstein Co.)
Octavia Spencer, "Hidden Figures" (20th Century Fox)
Michelle Williams, "Manchester by the Sea" (Roadside Attractions and Amazon Studios)
Best Actor in a Supporting Role
Mahershala Ali, "Moonlight" (A24)
Jeff Bridges, "Hell or High Water" (CBS Films/Lionsgate)
Lucas Hedges, "Manchester by the Sea" (Roadside Attractions and Amazon Studios)
Dev Patel, "Lion" (Weinstein Co.)
Michael Shannon, "Nocturnal Animals" (Focus Features)
Best Director
Denis Villeneuve, "Arrival" (Paramount Pictures)
Mel Gibson, "Hacksaw Ridge (Lionsgate)
Damien Chazelle, "La La Land" (Lionsgate)
Kenneth Lonergan, "Manchester by the Sea" (Amazon Studios and Roadside Attractions)
Barry Jenkins, "Moonlight" (A24)
Best Original Screenplay
Mike Mills, "20th Century Women" (A24)
Taylor Sheridan, "Hell or High Water" (CBS Films/Lionsgate)
Damien Chazelle, "La La Land" (Lionsgate)
Yorgos Lanthimos, "The Lobster" (A24)
Kenneth Lonergan, "Manchester by the Sea" (Amazon Studios and Roadside Attractions)
Best Adapted Screenplay
Eric Heisserer, "Arrival" (Paramount Pictures)
August Wilson, "Fences" (Paramount Pictures)
Theodore Melfi and Allison Schroeder, "Hidden Figures" (20th Century Fox)
Luke Davies, "Lion" (The Weinstein Co.)
Barry Jenkins and Tarell Alvin McCraney, "Moonlight" (A24)
Check out our film audition listings! And for advice on booking an award-winning role, visit Backstage's YouTube channel: