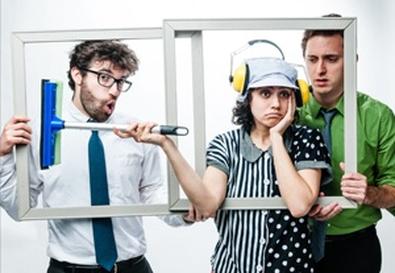 Most artists who have made it in the industry can readily name the first show that launched their careers. For hundreds of artists in and around New York City, that launch pad is ANT Fest, the groundbreaking theater and music festival, which opens June 1. Created and produced by Ars Nova, a theater company whose mission is to nurture burgeoning artists, ANT Fest is a month-long, barrier-pushing, genre-expanding celebration of all things new on the New York scene.
"It really is my favorite Ars Nova event," says Managing Director Jeremy Blocker. "You have comedy, music, and theater and all of those shows that defy categorization."
"ANT" stands for "All New Talent", and the festival showcases such across the spectrum of the performing arts. This year, more than 200 artists are scheduled to participate in one-night-only productions, and in Showgasm, a late-night variety show. Now in its fifth year, the festival has moved from the fall, when the New York arts calendar is inundated with openings, to the month of June.
Ars Nova accepts open submissions and gives special attention to artists who have never performed there before. "It would be easy for us to continue to support the same group of artists repeatedly because we love working with them," says Jocelyn Florence, the Associate Producer at Ars Nova. "But we wanted to make sure that we're getting new [artists] in the door annually."
The qualifications, according to Florence, are simply, "If you can do it live on our stage, you can apply." Applications of every sort arrive at Ars Nova's performance venue, which houses its office at the far west side of Manhattan on 54th Street. Proposals contain scripts, scores, and videos made with hand-held cameras. "We've gotten the odd VHS tape or two," Florence says with a laugh.
"We often have to decide whether to take a leap of faith on something that has enormous potential but is unfinished," she adds, referring to artists who submit first drafts with the intention to polish and develop them over the following months. "Generally speaking, we're not afraid to take that leap of faith."
Shows that juxtapose nostalgic pop culture figures – from Kurt Cobain to Bea Arthur to Macaulay Culkin – alongside current events are popular among the festival's selections. What accounts for the trend? According to Justin Jain, an ANT Fest alum, it's essential to have "an awareness of the trends in mainstream entertainment - television, movies, and online media. If we know the patterns and what draws the audience, then we can begin to either offer a remedy for those things or exploit them."
Jain's theater company The Berserker Residents is a Philadelphia-based group that first performed at ANT Fest in 2009 and went on to become Ars Nova's company-in-residence in 2011. This summer, the company will tour the West Coast with "The Jersey Devil", its original ANT Fest show. Having a show at ANT Fest "goes a long way for presenting yourself to other producers and companies," Jain says. "If your show at ANT Fest has success, that success will surely birth other successes." Past ANT Fest productions from other artists have moved on to venues such as the Berkshire Theatre Festival, HERE Arts Center, Joe's Pub, and the A.R.T in Boston.
Ars Nova stays in touch with festival alumni, "trying to pitch the artists to other venues," says Florence. However, introducing artists to each other and nurturing artistic collaboration is most important, she says.
"The honor of being included in a festival packed with like-minded artists helps to highlight the passion behind the work we make," says Calla Videt, a young artist at the helm of theater company Sightline who has two works at the festival this year. "We want to create work on the cusp of what's new and alive. What's better than being surrounded by people doing the same thing?"
ANT Fest runs June 1-28 at Ars Nova, 511 W. 54th St., NYC. For more information, visit www.arsnovanyc.com/antfest/