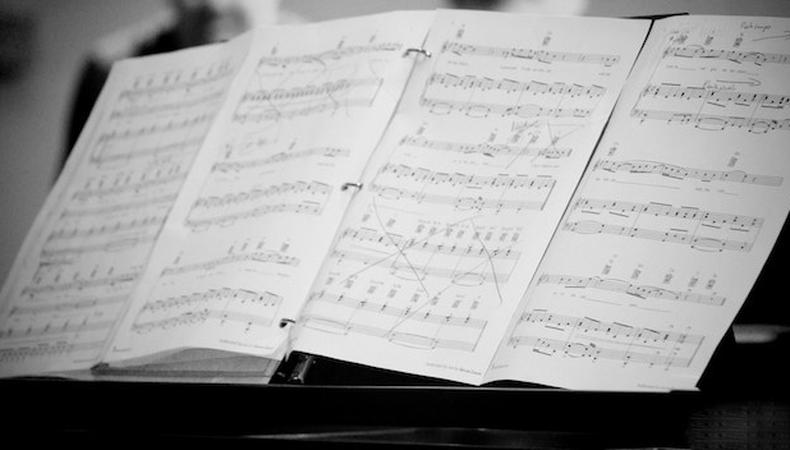 If music is integral to your career, there's no doubt you accumulate stacks of sheet music. And if you cherish everything from the Golden Age to the obscure like I do, it starts to pile up! Here are five eco-friendly tips to track your hardcopy and digital sheet music library.
Alphabetize your collection.
This takes time, so divide the chore into an hour a day and the payoff will be worth it. Depending on your home setup and personal aesthetic, dedicate a file cabinet for hard copies or a bookcase for binders. For both hard copies and digital, you might prefer to alphabetize by writer, genre, period...whatever will make it easy for you to locate the piece.
Build a song index.
Create a document of your song titles in a Word or Excel file. To inform your performance, add columns for composer/lyricist, title of show, and year of publication. Use the applications' search features to find and compare relevant information at a glance.
READ: Exactly What You Should Prepare for a Musical Theater Audition
Use an external hard drive.
Is your desktop a mess with files you don't access regularly? Too many cabarets and callbacks cluttering your hard drive? Offload them to a cloud-based service or external drive. For most performers, 500 gigabytes to 1 terabyte will be more than sufficient space. I love my Western Digital hard drive because it's lightweight and fits easily in my bag whether I'm working on the road or at a neighborhood café.
Save callback material.
If you audition for musical theater, you've most likely gone out for the same role more than once. For Broadway, national tours, and regional theater, you could be assigned a packet of 20-60 pages, which adds precious hours to your day reserved for printing, annotating, and coaching the material. So create a callback binder for all your hard work as it's likely you'll revisit the role in the future. Production teams may vary with their musical cuts and sides but there will be overlap. When they come back around, you'll be prepped and ready!
Purge.
When you start to organize, you might find duplicates or triplicates of the same song. Since my collection goes back to when I was very young, it feels sacrilege to toss any piece of sheet music. Instead of simply tossing them in the garbage, recycle extra copies or pay them forward to a friend. Create a simple status or tweet and point those pages to a more useful home now that yours is up-to-date and organized.
Mara Jill Herman is chronicling her performance adventures in Japan as a guest contributor for UArts College of Performing Arts blog. In 2012, she co-authored "So You Wanna Be A Superstar? The Ultimate Audition Guide" (Running Press Kids). Her writing has appeared on many arts-driven sites including BroadwayWorld, Theatre Nerds, Equity News, Troika Entertainment, Holland America Line, and the National YoungArts Foundation. Mara is a freelance writer and member of Actors' Equity Association. Follow her on Twitter @marajillherman and Instagram @marajillherman.
Check out Backstage's musicals audition listings!
The views expressed in this article are solely that of the individual(s) providing them,
and do not necessarily reflect the opinions of Backstage or its staff.