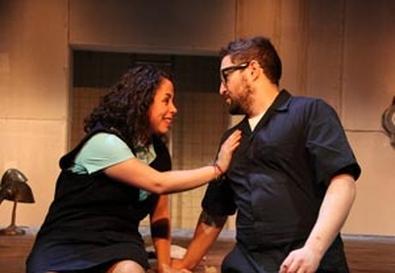 On the one hand, playwright Ashlin Halfnight thankfully eschews clunky exposition in his post-apocalyptic play
Artifacts of Consequence
. But on the other, not letting the audience in on what happened to drive Minna (Rebecca Lingafelter) and Ari (Sara Buffamanti) into a cavernous underwater bunker or why Dallas (Jayd McCarty) goes out into the world in search of the title objects for archival purposes is a major misstep. Without any backstory, the characters are just the sum of their quirks. So Ari is a teenager obsessed with
Pretty Woman
and
Dirty Dancing
, Minna is the by now overly familiar tough woman in charge, and Dallas is a dreamy-eyed intellectual who prefers tracking down the score to
Oklahoma
! to hunting and gathering food.
The first half of
Artifacts of Consequence
has the charm of a suspenseful science-fiction novel as we become engrossed in unraveling what we're watching. But Halfnight keeps adding to it, much like Dallas' obsessive collecting, until what was a lean, ambiguous story becomes a bloated, ponderous ode to pop culture. Even as Halfnight's heartbreaking ending is happening, there's the lurking suspicion that nothing preceding it has earned such a powerful finale.
Director Kristjan Thor coaxes fine performances from the actors, but the writing's lack of depth is a major obstacle. Buffamanti giggles and deadpans with flair as the painfully innocent Ari, but there's nothing to her but pop-culture references and strange sexual fantasies about interloper Theo (Marty Keiser). Keiser, at least, doesn't have to embody an archetype and seems to thoroughly enjoy himself. And while both Lingafelter, who has a mean throwing arm when it comes to Twinkies, and McCarty sink their teeth into juicier roles, they're defeated by their characters' utter lack of common sense. As a cultural artifact, file
Consequence
somewhere between a pet rock and disco.
Presented by Electric Pear Productions and Performance Lab 115at the Wild Project, 195 E. Third St
.,
NYC
.
April 21
–
May 2. Mon
.–
Sat
.,
8 p.m
.
(
212
)
351-3101
, (
866
)
811-4111, wwwtheatermania.com, or www.electricpear.org
.