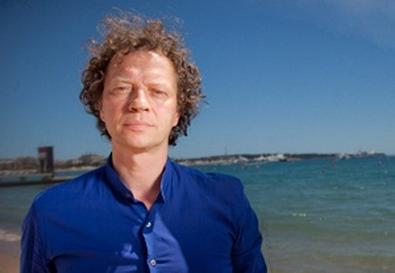 When the 11th annual Tribeca Film Festival opens April 18 in New York, it will be Frederic Boyer's first time in attendance. But Boyer is not only new to the festival as a filmgoer; he's also its newest artistic director.

Despite being green to Tribeca, Boyer is a familiar face on the international film festival circuit, serving in various capacities at Les Arcs European Film Festival and Cannes, in addition to creating and managing renowned Paris video store Videosphere, a mecca for movie lovers that boasts a library of about 60,000 titles.

"A long, long time ago, I made a mistake," Boyer says. "I preferred film instead of girls. And after, I chose film instead of studies. So I was always in the cinematheque."

His early love of film resulted in an unconventional career that he says feels more like fun than work.

"The most exciting part of my job is to meet the filmmakers when they're writing, when they're shooting, when they're editing, in postproduction," Boyer says. "It's a fantastic story to make a film. Sometimes it takes two or three years, or more, and I think it's extremely important to respect [the process], even if you don't like the film."

Therefore, Boyer wants to meet and get to know all of the artists at this year's fest, because he believes it is important to create a stable of filmmakers, festival executives, industry insiders, and fans who will come together to support each other for years. "I really don't want to discover everybody the day of the screening," he says. "It's extremely important for me to have the community, and it's important for the filmmakers to trust us."

TFF's previous artistic director, Peter Scarlet, resigned in 2009, leaving the position vacant until Tribeca Enterprises Chief Creative Officer Geoffrey Gilmore approached Boyer at the Toronto International Film Festival last fall. Boyer joined the team in November, working closely with Gilmore, TFF Executive Director Nancy Schafer, and Director of Programming Genna Terranova.

"I really love the team here," Boyer says. "I have some contacts in Europe they don't have, and they have so many contacts I don't have. The idea is to join forces, to bring a program with a good mix of international programs and American cinema."

The result is a film lineup that is almost evenly divided between American movies and foreign fare, representing a variety of genres, styles, budgets, and storytelling approaches to attract audiences of all types. While Boyer did not personally choose every film on the schedule or make many departures from past fests, he says that his role as the artistic director is to bring his own personality to Tribeca and further define its unique voice.

"Programming is not only choosing the films you love the best," he says. "Programming is a story, and a festival is a story. I'm always thinking about the audience. I really want the audience to enter the film, to laugh, to cry, but also in a way to think, to be educated, and maybe see a film from Indonesia or a film from Spain."

Boyer believes that one of the most important aspects of a film festival is bringing people together to discuss and debate films they may not have found on their own. His lifelong love of cinema is not limited to the classics or obscure midnight movies, so he aims for a populist approach to programming.

"I told the people at Tribeca they are not to worry," Boyer says, "because I'm not the art house guy. I don't have any limits. I'm a cinephile, but in a very large way."

For the full 2012 Tribeca Film Festival schedule and to purchase tickets, visit TribecaFilm.com.